DC Design, India's premier automotive design firm has taken a step beyond what it is known and revered for, with its reveal at Auto Expo today, of what is the country's first ever sports car, the sleekly styled and superbly configured DC Avanti. DC will be readying the Avanti for a production run beginning in 2013. The Indian cine stalwart and informed motoring buff Amitabh Bachchan revealed the stunning vehicle to a round of loud applause from reporters in the jam-packed hall.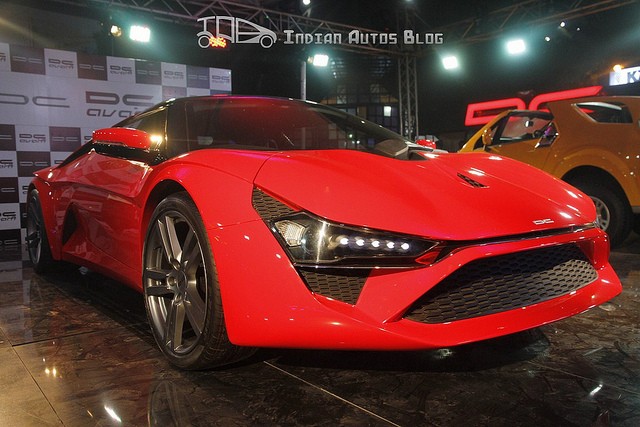 "We intend to produce 300 units of the Avanti in 2013-2014 and if all goes well we could ramp up the production to go into four figures per annum" Dilip Chhabria said upon unveiling the vehicle.
The Avanti is going to be powered by Ford's EcoBoost 2.0L 4-cylinder, turbocharged engine with Direct Injection and VVT. DOHC and four valves per cylinder help deliver more horsepower and torque than a 3L V6 naturally aspirated engine.
The power output will be about 240 BHP @ 5500 RPM and 270 lb/ft of torque @ 3500 RPM. Transmission being a MMT6 6-speed manual with an optional power shift six-speed dual clutch gearbox. With 330mm ventilated discs operated by racing calipers at both front and rear, this car will have decent stopping power. Overall, the product looks very promising and lets hope it delivers what is proposes on paper.
DC Avanti Image Slideshow
Visit the DC Avanti Flickr Image page if you can't view the slideshow above.