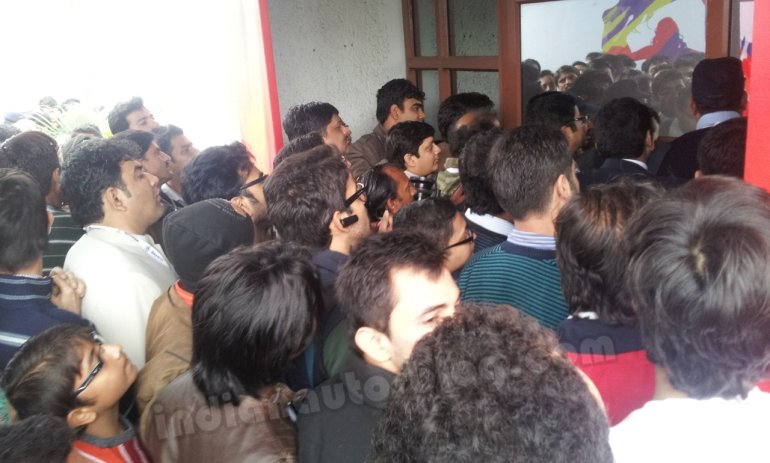 The New Delhi Auto Expo is one of the largest and important motor shows in the world. It's probably the worst organized show in the world as well.
While the Delhi Auto Expo is supposed to uplift India's pride by being a true world class event, the last two editions did just the opposite. The entire proceedings were downright messy and the aging Pragati Maidan failed to offer quality amenities to those who visited.
At this year's edition, the first two days, allotted for the media, saw over 70,000 footfalls. None of us were able to take photographs of the cars without being elbowed, pushed and shoved. Some companies didn't allow the media into their stalls if they didn't possess a valid media badge issued upon registration, an essential that was a luxury to many media personnel including us here at Indian Autos Blog. We had to contact the PR officers in Volkswagen and Force Motors to be let inside their stalls.
Not to mention the old infrastructure which begs for some attention from the government and utter lack of space. The chaos is further fueled by the disastrous crowd management.
The exhibitors spend a lot on their display halls only to be scared to death by the stampede waiting to happen at their hall. The entire scene propagates a negative messages to the international visitors who have seen world class events like the Shanghai, Geneva and Paris Motor Shows.
The Delhi Auto Expo 2014 is likely to be shifted to a better venue in Noida. It's expected that the auto component department will still continue to use Pragati Maidan as the venue while the cars, bikes and trucks will move to the new location.
When there is only 15 months of time left, it remains to be seen how the organizers of the event - CII (Confederation of Indian Industry), SIAM (Society of Indian Automobile Manufacturers) and ACMA (Automotive Component Manufacturers' Association) - will come up with a new plan.
[Inset - Crowds gathered outside an OEM stall on a media day of the 2012 Delhi Auto Expo]
[Source: TheHinduBussinessLine.com]