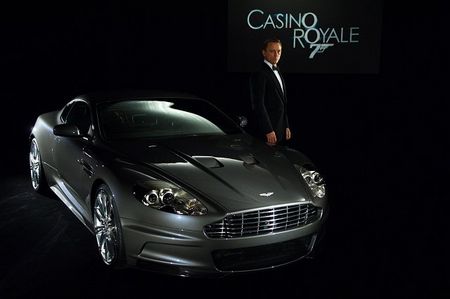 The new James Bond- Daniel Craig is a very down to earth guy. Off the screen, he doesnt even have a 'nano atomic particle beam pen' or a 'flash memory credit card'. Now though, he has brought in one vital element into his life from the Bond character - Aston Martin. Recently he was given a lifetime drive deal with Aston. This deal means that, he can just walk into the Aston company and drive out any Aston of his choice!
"I'm lucky enough that if I desperately want to drive in an Aston Martin, the company is just fantastic to me. They'll let me go on a track and drive one all day long." said Craig.
Craig can always have an Aston parked at his garage these days. But, the man does not seem to be happy.
He says "I could drive it faster and more furiously (on the track) than anywhere on the road. I live in London (and) it doesn't make any sense to drive an Aston Martin there. I've nowhere to park it." (Yeah Right!!)
If you remember, this is the same guy who asked for a Ford Mondeo- Bond car for his last movie Casino Royale!!
IAB Comment: Mr Bond, if you are reading this- Astons are presumed to be the most desirable cars in the world. When you are given a chance of taking one anytime, why make a fuss?? If you feel that Astons wouldn't fit into London roads, we in India are just waiting to oblige!! So, keep us posted through mail or please feel free to post comments ;)