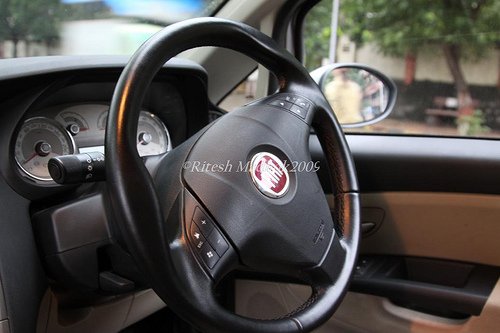 After the futile primo stint of the Italian giant in our country, it was the group of die hard Fiat aficionado's (includes us here in Indian Autos Blog) who had the belief in the company to defy all odds and kick back. These die hard fans never gave up prating about Palio S10 (1.6) & Palio Adventure, be it clubs or forums or bars.
Every time one talks about these offerings, one goes into seeing himself behind the steering of these machines and revving them hard. It was the pure sound of the engine and exhaust which made the youths go crazy about it.
It was such models Fiat was known for and not the Palio 1.1. The major chunk of the brand' followers are youngsters, when Fiat announced its comeback, they were the one who flooded blogs and forums and followed magazines to see them again revving the new Linea and Punto.
Fiat launched the Linea, it stirred everyone by it Italian design; all the young maniacs queued up to lay their hands on its steering.
Result - everybody was pleased with looks, ride and handling but not with the engines. By no means the engines offered are bad. It's just that they go poorly with the looks and handling of the Linea hence it was not a great overall package.
BHP Maniacs still didn't give up and the wait for the Punto was on. But once again it was nothing but disappointment. A great looker with great handling and comfort but the engines felt puny to work with the copious body.
Major chunks of the Fiat habitue' in India are young lads, who are buying it for the reason of looks and ride with an adequate engine.
If looks could kill then Fiat India should be named Hit man, why am I saying this…?
To find the answer, have a look at the new Punto and Linea and reserve your comment for the same. Both Linea & Punto look drop head gorgeous and are arguably the best looking sedan and hatch under the million Rupee segment respectively with arguably the best ride also.
**Just Fiat would have provided the right set of engines to marry it**
Fiat uses Tata's shops in India to sell their products. What all of us would like to see is young customers walking out of them with cars that suit their style.
The 1.3 Multijet and 1.4 Fire are great engines but they don't go with Punto & Linea image & make them an overall stand out product. The 1.3 Multijet is actually being used in 5 other products other than Punto & Linea and 1.4 Fire will be shared with the new Vista Hatchback and Vista Sedan, all these products offered are notches below the offerings from Fiat which in turn is also drowning its image more.
Well we know that earlier Fiat engines 1.2 & 1.6, created an Image of being gas guzzlers which is a crime in Indian efficiency conscious market. So going forth in their second innings Fiat wanted to change their image from being thirsty to frugal but Fiat is not realising their own potential, the modern Fiat marvels like 1.4 T-jet (Petrol) and 1.6 Multijet (Diesel) are not only speedsters but very fuel efficient as well. These engines will add the required charisma to the Fiats stint in India.
Going by the news from our insider of Fiat testing the 1.6 Multijet and 1.4 T-jet, soon the wishes of all Fiat aficionados will be answered and we love to see as the best answer to the Honda City for the clash of sobriquet.