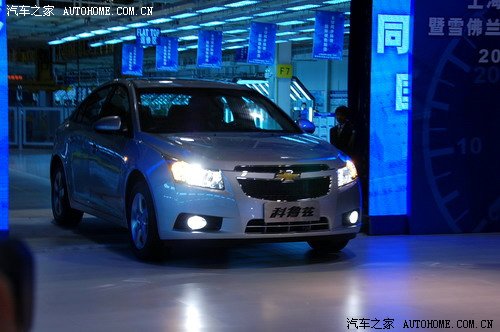 The Chevrolet Cruze viz. one of GM's world cars, and will see production in several parts of the globe in 2009, including India . SAIC-GM (a Chinese collaboration) has started the production of the Cruze in its Shenyang factory, with the first fully assembled test model rolling off the line. GM showed off the first production model to the Chinese press, with reportedly many from the GM management on sight to celebrate the first models production. Work on GM's Shenyang factory began in 2005, and was completed within 3 years, the factories main focus is on higher quality, and 'green production', the factory lies on 136,000 sq meteres of land, and 26.7 billion RMB has been invested in its construction, making it one of the largest GM factories in China, with a production capacity of 150,000 cars per year.
The Chevrolet Cruze is expected to be formally put into production only in the second quarter of 2009, and be on the market shortly afterwards. The North American markets are expected to receive a 1.4 turbo engine, European models are set to receive a 1.6l, and 1.8l gasoline engines, as well as a 2.0l diesel engine. Indian Cruze still remains a mystery except for its tentative launch in Dec 2009.
How far behind is India ?
The 2009 Chevrolet Cruze will be built at Chevy's Talegaon  plant in Maharashtra and is expected to hit Indian market only by December 2009 or start of 2010.

Chevrolet India's sales figures have plummetted drastically due to the automobile market slump, so Chevy's priority is to clear out the existing stocks of its other cars.

Chevrolet India lacks funds to make a public display/celebration upon release of the first production model !

Further announcements are expected only when the auto market stabilises in Chevy's favour.

Source: ChinaCarTimes