If you own a Chevy Cruze, here's another reason for you to feel a sense of pride. The Chevrolet Cruze is a sales blockbuster in the US clocking 26,648 deliveries in July. It beat the Hyundai Elantra (expected in India by 2013) and the Toyota Corolla in the victorious journey.
GM USA has sold 147,620 Cruze models from January until the end of July. It has a very short distance to go before it beats the Corolla which managed a class-leading 154,324 units in the same period. International blogs reported that GM is considering a diesel Cruze for USA next year. Alongside the diesel, Chevrolet could land a Cruze coupe next year.
With the niche two-door and the high-economy diesel variants can the Cruze become the America's best selling car in 2011?
GM's chief marketing officer Joel Ewanick -
We are competitive for the first time ever. The buyers are completely different than the ones we have seen before.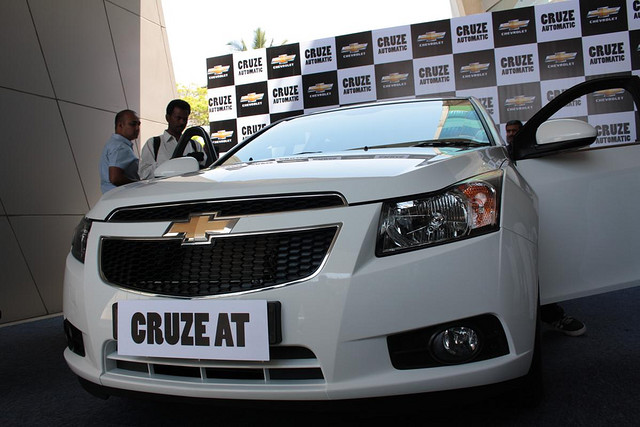 The Cruze has clicked for GM in the States and here in India with a powerful diesel engine it makes up for a sizable volume in the overall sales. GM has introduced a Cruze hatchback in Europe and a station wagon is rumored to be in the works. GM's Australian division Holden is working out a performance SS variant of the Cruze. GM's strong attachment with batteries and motors could also lead to a Volt-based EV.
The Cruze's brisk performance has helped GM to regain the crown of the world's best selling automotive brand. Both Volkswagen and Toyota are in the race for the top slot and the battle to reach there could end in India.
While Volkswagen hopes that its Mk 7 Golf, Up! along with the MQB platform derivatives will get them there, Toyota's mix of compact cars (like the Etios XL) and the successor to best sellers like Corolla and Camry it prays will catapult them ahead of VW and GM.
There's so much action worldwide, but General Motors India has been slow in revitalizing its mass-market model range where thousands of units are to be had. The Sail twins along with two vans from the SAIC's Chinese lineup have been in the news for years but are still coming to India. GM India has decided to postpone the Sonic twins in favor of the Sail cars.
[Quote Source - Bloomberg.com]