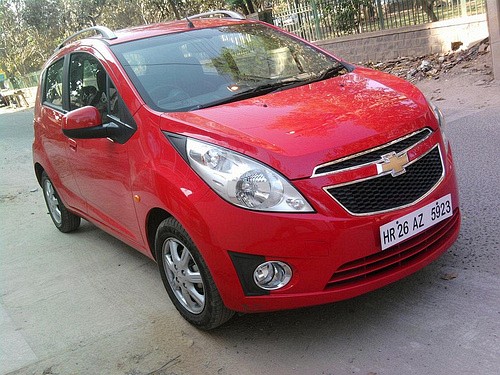 Interiors
The car which has set the segment abuzz with its sharp yet curvy and youthful exteriors is equally young inside. The motorcycle inspired speedometer along with small screen like digital display is quite unique in itself.
The interiors are inspired from the elder sibling Cruze with similar looking steering & blue backlit interiors giving it a nice sporty feel. If Hyundai raised the benchmark for quality of interiors in the small car segment with its "i"range, the Beat has taken it a step further. The panel gaps are fairly consistent; the plastic feels good to touch and speaks of quality.
In the country where beige is becoming the national interior color, everything which is not beige is treated as cheap; no more dull black and gray's, but GM has taken a tough and smart step by not going with beige.
The interior is darker tone of grey with some texture finish. This dark gray works exceptionally well with blue interior theme and adds a pinch of sportiness. Other than going well with the interior, it also helps in reducing glare on front windscreen, which is a common problem with beige interiors.
Repositioning the conventional door handle from door to the window assists the overall look and COD (Co-efficient drag). The compromise is glass area and makes the rear seating quite claustrophobic.
A special mention: Unlike fake wooden center fascias offered commonly, there is black glossy finish which flows through the cabin, adding flair to the already cool interiors.
Functionality
The Beat's cabin scores quite high in terms of functionality, it has a plethora of well thought out storage spaces to serve you in the best possible manner. A large cubby hole in the door can house your water bottle, nice thoughtful space in front doors to carry magazine or files. Just look where you want to and you will find space for your stuff. The curved rear view mirror helps improve rear vision while driving.
Ergonomics
Beat scores well in this department with everything at an arm's length away. Few nice touches like the big chunky volume controller in music system proves to be of great help in keeping obstruction free driving, water bottle storage in door is easily accessible as it will be used frequently in hot Indian summers.
Space & Seats
The Beat has got oodles of space be it you in the front seats or enjoying the ride seating behind, leg space is better than Swift and in the same territory as the Hyundai i20.
The seats are fairly supportive with nice soft feel to make your ride comfy though they miss big time on thigh support. Long journeys could be a touch sour especially for taller persons.
Music
Less said more the better. After getting spoiled with the class best factory fitted music system in Cruze, I was disappointed with the music system doing duty in the Beat, the culprit is below average speakers which creates its own music with increase in volume. It is on par with competition but not on par for the car which impresses and betters the competition in almost all other aspects.
It comes with Aux-in for the person who likes to carry their music in iPods but the cheaper and more common option of USB slot has been messed up big time by them not providing the standard slot. The slot offered is the same one used in mobile phones.
Boot
The 170 liters of boot is limited to carrying a handful of shopping bags or a medium size luggage bag. If your wife loves to shop around or doesn't move without carrying the world in her hands, then be prepared for a few grins. GM has sacrificed boot space in the favor of leg room. Boot has a small lamp tucked in the left which is a small yet thoughtful as it is of good use at night.
Rattles
Beat seems nicely put together. The car we were testing had already been used for few thousand km by GM and other media houses but it  didn't show signs of rattling. The only thing which annoyed us during the entire stay was the rear parcel shelf, it had tendency to dance and whistle even on smallest of undulations leave alone the bigger craters our Indian roads are complimented with.
Shakti's Verdict
Like how the Porsche Cayman was built for being better than Boxter but stopped from being as good as 911, this car is possibly as good a B segment car can be, but it had all the credentials of a good B+ segment car. GM might be thinking where would we place the upcoming 2011 Aveo then. I would be looking forward to the Beat oil burner landing on our shores this Diwali.
Well now to some of the remaining answers:
Will it make a hole in my pocket to maintain this?
Well surely not, with GM winning 3 yrs in row J.D power Asia pacific award for best quality in small segment for its Spark, Beat certainly is step ahead in the same direction. Plus GM offers the best ownership plans these days.
Can it be an answer to the most desirable Maruti or the well liked Hyundai?
Yes surely can, it's an absolute alternate to i10 and Ritz but Swift is still untouchable and with all new K series engine plonked into it, it takes the game further away.
Does it have my Heart beating?
It would have been a clean sweep had the engine and gearbox been an as youthful as the looks and interiors, but in real world condition major chunk of people will not bother about it as it excels where it is needed.
As asked by few of our fellow readers, how does it fair against i20?
Comparing Beat head to head with i20 won't be a fair call as i20 is segment ahead of Beat but yes a comparison with lower end version of i20 with Beat can be still a reasonable alternative and here's why:
- You get loads of kit in Beat and as compared to the lower end version of i20, and you still end up saving few more grands.
- Beat feels more responsive in comparison to the i20 with 1.2 heart.
- Beat is nippier to drive, especially inside city limits. On the other hand i20 offers oodles of boot space with more planted ride.
IAB will be looking forward to your vital feedback and is more than happy to reply to the queries you have.
Chevrolet Beat Image Slideshow
can't view the slideshow above? visit the Chevrolet Beat drive Image Gallery directly