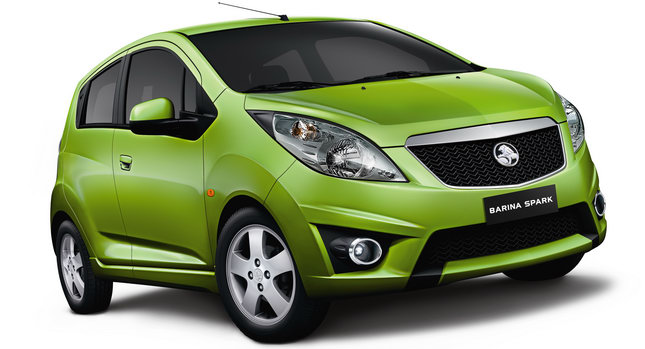 After making a lot of noise with its unconventional looks & innovative marketing campaigns all across Asia and Europe, GM's funky looking hatchback the Spark (sold as Beat in India) is all set to make its debut in the Australian Market.
The Spark will wear the Holden badge and will be called the 'Barina Spark'. Interestingly the Aveo siblings (3 door hatch, 5 door hatch & Sedan) are called the 'Holden Barina' in Australia.
The car will be positioned as an entry level model and will be competing with cars like the Hyundai Getz. It will be powered by a 1.2 liter 4 cylinder petrol engine (power output is still unclear) mated to a 5 speed manual transmission. The engine is pretty economical too, returning 42 MPG (17.8kpl)and CO2 emissions of 119g/km.
The Barina Spark scores full marks in the safety department with six airbags & ESP as a standard feature. Fog lamps and alloy wheels also come standard.
John Elsworth, Director of Sales, Marketing and Aftersales at Holden -
This is a very style-conscious market and with Barina Spark we have a really fresh and energetic design that breaks the 'cute car' mould. It's fun, fuel efficient and offers class-leading safety features and value for money in the best Holden tradition.
The car will be showcased at the Australian International Motor Show in Sydney next week where all the details will be unveiled and it goes on sale in the country by the end of this year. The company hopes to garner quite a few numbers with this hatch that is expected to be priced under 13000 AUS $.