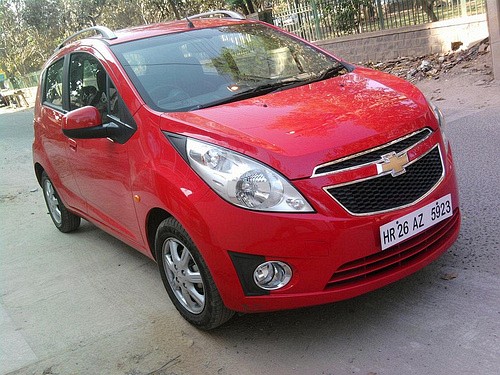 The Chevrolet Beat has a good ride. The gearbox could have been better
Engine
The Beat comes with 1.2 litre S-Tec II engine, it develops 79bhp at 6200rpm and max torque of 108 NM comes at a high 4400rpm. What's the deal with this as every manufacture offers a 1.2 litre engine to save money through excise cuts.
Start the engine and you ask yourself whether its running or not; the engine is as silent as a ghost at night but the silence ends the moment you start revving the engine. It gets pretty coarse the more revs you gain the more louder and harsher it gets.
It is not as rev friendly as the motors offered in Japanese duo of Ritz and Swift but it can be a fair match to the Kappa if not slightly better. The engine has a good low end grunt, which eases your day to day need in bumper to bumper traffic but once past the early perk it lacks the mid-range punch and delivers a feeble final punch at higher revs. It doesn't possess the sound to provide you with an adrenaline rush and neither does it beg to be revved until the red line.
To summarize, this engine feels at home at exactly where it should be doing duties 90 percent of the time in the hands of its international customers - that's in city runabouts. It is designed for start-stop traffic.
Gearbox
The gearbox is an improvement over some of the earlier GM offerings but no where close to the butter smooth shifts offered by the Japanese sub-compacts. It is light and easy to use, thanks to a square gear knob. But not so much fun, slightly long throws draw the fun out of it. The ratios are wide too assisting fuel economy than the fun of shifting but why complain as that's what majority of people in our country want.
Steering
The steering is light and nippy for city use and weighs up nicely when the Speedo heads north. The cost effective HPS (Hydraulic Power steering) instead of more conventional and now commonly used EPS (Electronic Power steering) on the Beat works in its favors by providing good feedback, don't mistake it to be in league of the Suzuki Swift but certainly its better than the Hyundai i10.
Ride and Handling
Well arguably it could be one of the best hatches in the B segment offering such a plush ride. The ride quality is far superior for a small hatchback. It's not too bouncy like i10 or nor as stiff as Swift. The suspension does its duty perfectly to absorb all the small undulations the road offers, large holes can give u bit of stir but that's again in absorbable manner.
You must be thinking the hatch that offers such good ride must be handling like a Bus, well that's exactly not the case here. It's nice, nippy and handles well, despite being tall boy the body roll is way in control and does handles corners decently. Take certain lane changes and throw some twists tires start to cry, well those 155 profile scooter size tires are way too small to offer the grip you'd expect, a tire of bigger profile will certainly do wonders to its drive. Maybe GM left that for the customer to decide. We'd be upgrading to slightly bigger tires if we bought one.
Brakes
The brakes have fair bit of bite and does their job perfectly, it offers enough support to inspire confidence.
Fuel Efficiency
This is where this hatch pleases the most, entire effort of GM making it extremely fuel efficient shows in. During its stint with us this car delivered fuel economy of 15.25 Kmpl, taking in the consideration the bumper to bumper traffic and being hard footed while testing, the above figures are more than acceptable.
Well that answers our 2nd and 4th questions on how does it drives and how fuel efficient is it. The last bunch of answers with verdict with follow soon, be hooked to IAB and keep on firing your vital comments.
Chevrolet Beat Image Slideshow
can't view the slideshow above? visit the Chevrolet Beat drive Image Gallery directly