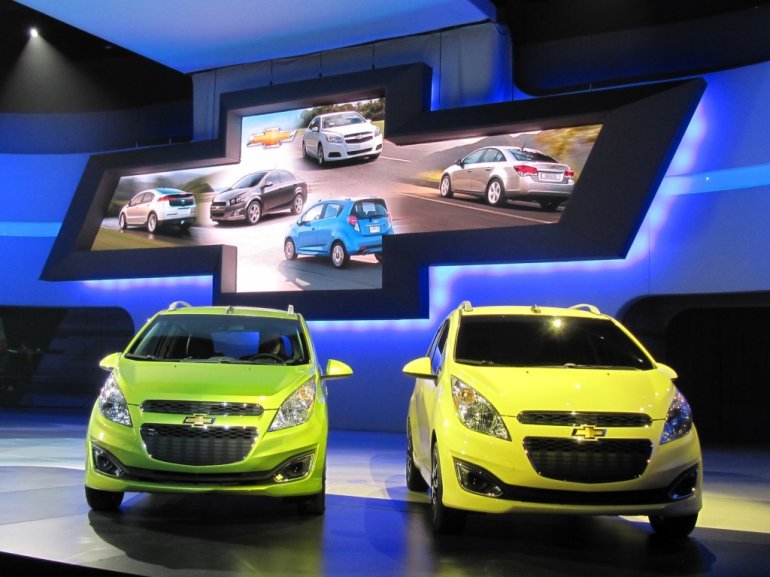 The Beat is the best selling model for Chevrolet India. It has consistently sold more than 4,000 units in the past 6 month. The addition of the Smartech Diesel engine to the lineup has made the Beat one of the best hatchbacks in India.
The sales have been aided by the absence of a diesel car in the B1 segment. Hyundai's next gen i10 and the Maruti Wagon R facelift are rumored to be getting diesel hearts.
In fact since 2010, the Beat has been on sale in more than 100 markets across the globe except one very important one.
General Motors has just announced that the Chevrolet Beat will make its U.S. debut in August and will be called 'Spark.' It will be Chevrolet's smallest model on sale in US till date.
We would like to remind our audience that the Chevrolet Beat that will go on sale in the US is slightly different from the Indian model. It has a new front grille, restyled fog lamps and overall a more aggressive styling. We have comprehensively covered it over here.
The Chevrolet Beat is specifically targeted at first-time buyers and city dwellers in North America. The US-spec car is feature-laden with goodies such as Hill Hold Assist, Panic Brake Assist as well as Bluetooth and USB connectivity. It also gets Chevrolet MyLink infotainment system with access to Pandora internet radio.
The Spark is powered by a 1.2L Ecotec engine generating 83hp paired to a five-speed manual transmission. A 4-speed automatic is available if "driving stick doesn't cut you some slack."
Chevrolet will try to sell the Beat in the US by harping on its fuel efficiency figures. Chevy claims that the US adapted Spark gives an extremely competitive 30 mpg (12 kmpl) within the city and 40 mpg (17 kmpl) on the highway.
The Chevy Spark will compete against models such as the Fiat 500, Scion iQ and Smart ForTwo in the US markets.
Will the land of the Uncle Sam appreciate the frugality of the Beat?
[Source:  Torquenews.com & GreenCarReports.com]