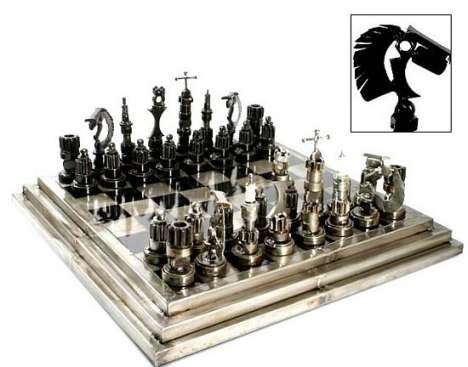 How many cars have u seen going to the junkyard and getting crushed into pieces? At least if not in real time you would have surely seen in TV. Here is a novel idea to dispose the old cars in a much more greener way.
Armando Ramirez proves that old cars are much more safer than any other electronic gadget that is disposed. He has created a custom made chess board which is completely made of old automobile parts. Each chess is Hand made and has a great finish over it. All the Pieces are made of rustic and heavy left over of automobile parts.
Here let us take a Bishop piece and lets check with which part it is made of. The heads of the Bishop piece is made using NGC and AC DELCO spark plug. Likewise each piece is unique and distinct in its own ways.These custom made chess board will make waves in people who love hand made works. It looks so attractive that you wont be able to take your eyes out of it.
These chess sets would cost you around $210, which is quite reasonable for a custom made boards like this. What you get in return is the true pleasure of having a artistic piece in your hand. These kind of products will be a breathing in kind of thing for all the people who would love to go green!