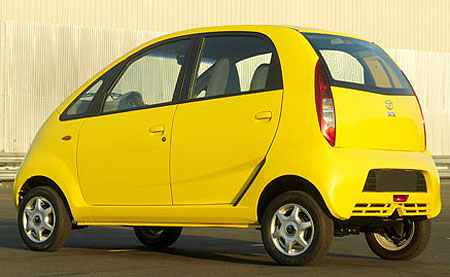 Nano — "an orphan without a home", as Tata Group chairman Ratan Tata called it — has finally found its home 25 km from Ahmedabad, at Sanand. After the bitter battle fought by Tata against the West Bengal opposition party, ended in walk out from Singur, this news is of immense consolation to the Tatas.
The capacity of the new plant is to be higher than that of the abandoned Singur plant(1100 acres as oposed to 1000). The Sanand plant is being planned for a capacity of 5 lakh cars a year, up from the Singur plant's proposed capacity of 3 lakh cars. Tata has a testing time frame ahead - constucting and commissioning the plant within the next 12 months! During the waiting period, Tata plans to manufacture the Nano in its satellite units of Pantnagar, Uttarakhand and Pune, Maharashtra.
Apart from manufacturing cars, Tatas would take up agriculture and marine biology research in the state as well as build an ITI near the Nano plant for training workers.
Clearly, what's West Bengal's loss is Gujarat's gain!
Source- Cubic Capacity
Press Release after the jump
Press Release-
Ahmedabad / Mumbai: Tata Motors today announced that the mother plant for the Nano will be relocated to Sanand in Gujarat.
The company had received overwhelming support from several states for relocating the plant. After examining various sites in these states and carefully evaluating offers from the respective governments, the company has concluded that the site at Sanand and the offer from the Gujarat government is in the best interest of the project.
The integrated project, comprising the mother plant and the vendor park, will come up on an area of about 1,100 acres. The plant, to begin with, will produce 250,000 cars per annum. The capacity is expandable up to 500,000 cars per annum. The project, including Tata Motors' plant, vendor facilities and service providers, will together generate over 10,000 direct and indirect jobs.
Announcing the decision, Ratan N Tata, Chairman of Tata Sons and Tata Motors, said, "The site in Gujarat, already under the possession of the state government, will help Tata Motors establish a new dedicated mother plant with the shortest possible time lag and least possible incremental project cost. This is Tata Motors' maiden venture in Gujarat, and will broad-base the company's manufacturing footprint. We are happy to contribute to Gujarat's strong industrial progress by creating an auto cluster, which will have a cascading impact on the state's economy."
While awaiting Sanand plant's completion, Tata Motors will explore the possibility of manufacturing the Nano at its existing facilities at Pune and Pantnagar, and launch the car in the last quarter of this financial year.