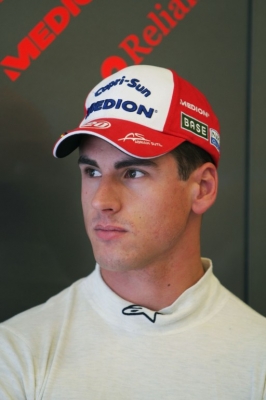 After the departure of Giancarlo Fisichella, questions on who would take up responsibility as the lead driver in Force India's camp was answered gracefully by Adrian Sutil as he put fast lap after another to take 2nd position in the Italian GP qualifying.
His team mate Vitantonio Liuzzi, who is the replacement driver for Fisi, was not far behind. He'll start tomorrow's race from 7th position, making it the best ever start Force India have recorded in their stint so far with Formula 1.
At the Qualifying press conference -
Lewis Hamilton (in pole) - "Great to see Sutil here in the podium, interesting first corner, in best position to face it..we got KERS for help..hoping to get around the first corner and enjoy the rest of the race."
Adrian Sutil (2nd position) - "A Great moment, great day..weekend is a success..car's amazing..so good for the team after the success at SPA, enjoyed single moment, feel very good.."
"Fisichella says he does not have a strong car compared to ours..his dream was realized as he moved to Ferrari..he's recovered, 14th postion is a strong position..we replaced the seat well with Liuzi..first qualifying session he comes into Q3."
Kimi Raikonnen (3rd position) - "Tomorrow this (qualifying postion) will get us to do well.."