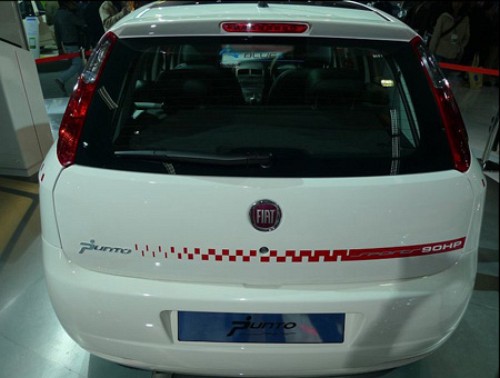 We have long been awaiting the launch of the 90 hp Fiat Grande Punto Diesel which was showcased at the 2010 Auto Expo in New Delhi.
We called up Fiat regarding its launch and they said -
We will launch the "Fiat Punto 90hp" in India on the 16th of July. We will not call it Sports
The Fiat Punto 1.3 liter Multijet diesel engine came only with an ordinary turbocharger and produced 76 hp. This engine along with an unpleasant gearbox played spoilsport on the Punto's drive. Now Fiat would give an upgrade to Punto's 1.3 liter Multi-jet engine by adding a VGT (Variable Geometry Turbocharger) from the Linea sedan.
With the addition of the VGT, the Grande Punto's power would be boosted to 90 hp and torque to 209 Nm. We expect Fiat to slightly tweak the gearbox to bring down the tall gear ratios and induce some linearity in the gear ratios. There would be no external differences between the Punto 90 hp and the regular Puntos but for the '90 hp' badge beneath the variant' badge (Emotion). The car could also come with clear lens rear tail lamps.
The 90 hp Fiat Punto could be priced slightly higher than the ordinary Punto and we guess Fiat would be offering the 90 hp engine only on the top of the line 'Emotion' and 'Emotion Pack' variants.
Thanks for the tip Motor Beam