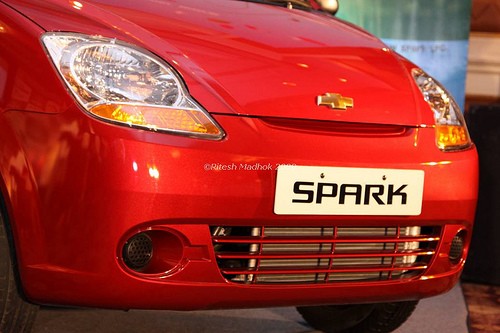 We expect the 800cc Spark to come with no power steering or power windows
We touched upon the 800cc Spark earlier and more media reports on the same indicate the launch is not far away. GM told us the Spark EV will be on display during the Auto Expo but was not willing to share anything on the 800cc Spark. They denied any plans of the low cost Spark.
A 800cc Spark is not new to India. Daewoo's Matiz used a three cylinder 796cc engine through its lifetime in our country. The vehicle back then was the best alternative to the Santro with good cabin space and cheeky looks.
The second time in 2010, the smaller Spark's direct rival would be the Suzuki Alto which has sold 20,000+ units on an average every month this year.
We don't have more information on this model except that it will be stripped of expensive equipment and accessories.
Chevrolet Spark LPG Image Slideshow
can't see the Image Slideshow above? Visit the Chevrolet Spark LPG Image Gallery directly