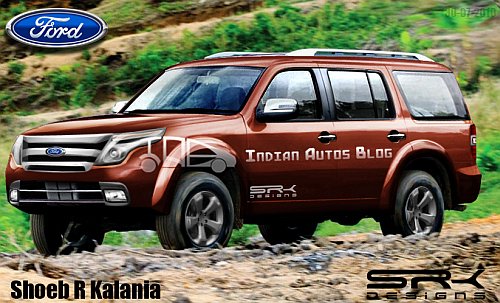 By Kaustubh Shinde
There is a little bit of extra information that you need to know on the next generation Ford Endeavour. Whether you know it as the Ford Ranger in its pickup truck form, or Ford Everest in other markets, the platform has started its development process as a pickup truck under the codename 'T6'.
The SUV that will a T6 platform spin-off  is being developed under the guidance of Todd Hoevener, Ford's SUV specialist and vehicle engineering manager, who's been flown in from America. His recent work includes the latest model of the iconic Ford Explorer.
The design language will lay emphasis on aerodynamics which is a refreshing change from the old one. We expect Ford's current 3.0-litre, 4-cylinder common-rail turbo diesel engine to be carried over. Otherwise, the 176kW 2.0-litre four-cylinder Ecoboost engine is expected.
Acknowledging the fact that Ford is currently inundated with a lot of Figo orders and its upcoming projects like the Euro Fiesta sedan and seven other models over the next few years are going to keep them very busy, we expect this SUV will take sometime to hit the market, probably the middle of 2012.
Stay tuned, we will bring you more information as it comes to hand.
Source - Go Auto Australia