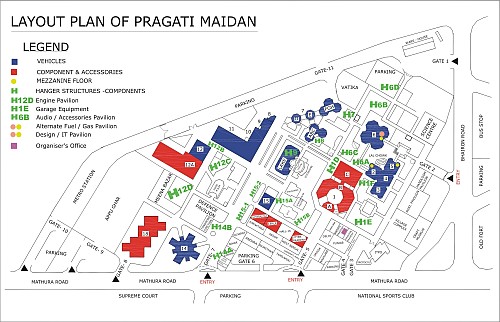 Layout of Auto Expo 2010 - 2 million visitors expected in this edition
The previous edition of the Auto Expo in January 2008 in New Delhi drew 1.8 million visitors. The 2010 edition scheduled at the same venue Pragati Maidan, from January 5-11 will see almost 2 million visitors and that makes it the largest auto show on the planet.
Pawan Goenka, president of the Society of Indian Automobile Manufacturers (Siam) and president, Mahindra & Mahindra
The 2010 Auto Expo will be bigger, brighter and better than the previous shows. The growing number of visitors indicates the rising importance of India [ Images ] as a key automobile destination.
An Industry Executive -
The New Delhi Auto Expo is held only for seven days, while the New York Auto Show is open for 10 days and the Shanghai Auto Show is spread over nine days. The New York Auto Expo attracts a large crowd because the show venue is located in the heart of New York City's 34th and 39th Street intersections, which are busy locations. Besides, the show is also promoted as a significant tourist attraction, while Delhi Auto Expo's Pragati Maidan does not enjoy this benefit
Why is there so much of crowd in India?
- India is the fastest growing market for cars and bikes
- Products and concepts for global markets will be unveiled
- Manufacturers who skipped major shows this year participate in the Auto Expo
Source - Rediff Business