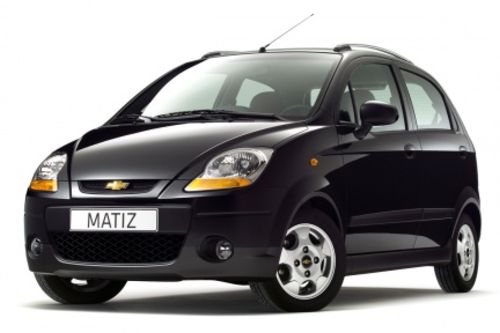 Recognized as the Chevrolet Spark in India, the Daewoo Matiz has been one of the finest small cars from the Korean maker. Company instability and financial difficulties ruined the reputation of the cute car but after GM taking over Daewoo, things have been much better for the Matiz globally. The 2009 variant goes on sale in Korea starting September 1st. GM is offering free fuel for a limited time along with the car to appeal to more buyers. A new variant 'SX Star' comes fully loaded with all the goodies. What's it all about? Read through for the press release.
GM Daewoo Auto & Technology (GM Daewoo) has launched the 2009 model-year Matiz, which comes equipped with an array of new comfort and convenience features as standard and a new trim level, the SX Star.The latest version of GM Daewoo's popular mini-car goes on sale on September 1.
The exterior and interior styling of the new Matiz SX Star are enhanced by chrome tail lamps, chrome body-side molding, alloy wheels and stylish faux leather seats, which all come standard. Selective features that younger customers tend to favor such as a heated driver's seat and rear park assist sensors also come standard.
The SX Orange edition, which is tailored especially for female customers, also features chrome tail lamps, chrome body-side molding and rear park assist sensors, as well as an orange color instrument panel cluster, seats and door trim.Among the other standard features are a sunglass holder, beauty mirror and under-the-seat tray for keeping high heels.
"With the 2009 Matiz and SX Star, GM Daewoo offers more to choose from in the fast-growing mini segment," said Rick LaBelle, GM Daewoo Vice President of Vehicle Sales, Service and Marketing."The SX Star is packed with the features that are most in demand at an attractive price, adding greater value to what is already the most economical vehicle family on the market."
The 2009 Matiz with a manual transmission is priced at KRW 6,390,000 for the City, KRW 7,390,000 for the Joy, KRW 7,780,000 for the Super, KRW 7,260,000 for the SX Orange and KRW 7,610,000 for the new SX Star.
To promote the arrival of the 2009 Matiz, GM Daewoo will offer buyers KRW 400,000 worth of fuel cost savings through the end of September.