Thanks to a teeny weeny tweet by Autocar India magazine editor Hormazd Sorabjee, the Blogosphere is abuzz with Ford's 1.6-liter Figo variant. We pitched this question to Ford India officials last year in January during the media drive preceding the launch and they insisted that priority was selling the fuel-efficient 1.2-liter model. Keeping the Figo's prices down meant they could not cross the 1.2-liter displacement mark set for small car benefits in India.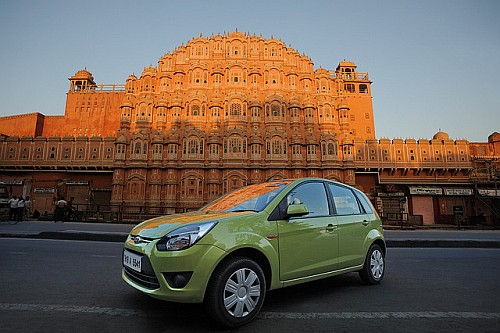 Now that the Figo has surpassed the company's expectations and Ford is on cloud nine, it is time to show bhp aficionados the goods. The operation will not be time or cost consuming as Ford exports the 1.6-liter variant to the Middle East with an AT.
Since the customer opting for the 1.6-liter will not altogether forget the fuel economy factor, the manual transmission will be preferred choice. Also the driving enthusiast buying the 1.6 and will prefer the manual over the less responsive AT.
Understandably the 1.6-liter variant will be priced below its peers from Skoda, Volkswagen, Fiat and Tata Motors. With 101PS and 146Nm, all that the Figo needs is a special color, sporty alloys, tweaked suspension and a stripe or two on the bodywork. Is the Ford Figo Sport is ready to roll then?