For those who are bored of autoblog and jalopnik, here is a list of 11 auto blogs which you must visit everyday.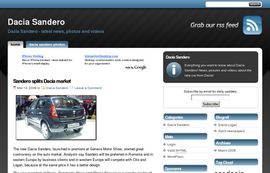 Autolemming is a cool site for all those looking for regular news, but the ones that are sure to find lots of readers. All the posts evoke interest and are a good mix of all the ones scattered over the internet.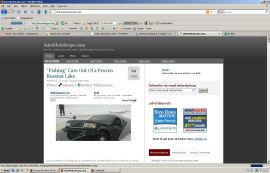 This is one amazing site flooded with lots and lots of pictures. Virtually all you need time for is to browse through the pictures. Every article explains itself through the pictures. It lists cool automotive news that is quite rare and hard to come by. This is one site that every auto officianado needs to visit. We feel they are one of the finest blogs amongst all the auto blogs.
http://thecarblogger.blogspot.com/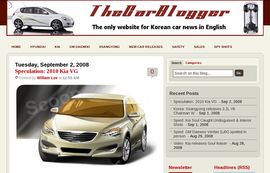 It reads 'The only website for Korean news in English'. This is very evident when you consider the fact that almost all of the articles featured are on Kia and Hyundai. There are comprehensive listings of Korean articles and the entire website is patriotic and related to Korean Automakers. This gets even more interesting when you know that Hyundai-Kia has emerged the 5th largest carmaker in the world.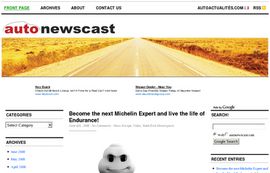 AutoNewscast is the english counterpart to AutoActualités.  Started in 2006 for the French automotive market, this is their interactive English blog.  Considering the enormous quantity of press releases issued by carmakers in both languages, we believe that there is enough to provide for the two versions of our blog.  As you will note, you can switch between our two blogs simply clicking a button.  While surfing one blog you can see the most recent posts on the other blog appearing in the right column.  Our goal is to provide as much information as possible as soon as it reaches our editor's desk.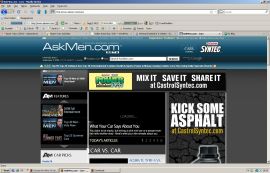 Part of the askmen network, the cars section offers lots of news and cool write-ups.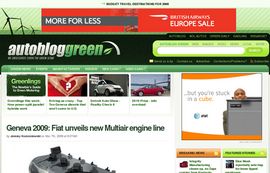 As you would have guessed it from the name, these guys strive on bringing news from the world of eco-friendly autos. This is THE place to be if you want to know what's the latest from the alternate fuels industry. Diesels, Hybrids, Electric cars, Alternative energy, you name it, these guys have it. The staff who write for autoblog.com, write here, so you can expect all the humor and wit at autobloggreen.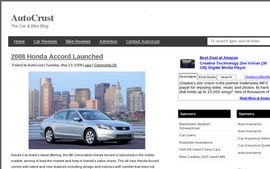 Autocrust is a rapidly upcoming Indian Automotive blog bringing you the latest in news and launches specifically for the Indian market. One of the highlights is their new article which previews the latest cars to hit the Indian market in 2008. We love them!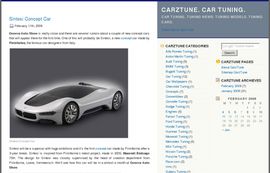 Any tuning news that any operson would possibly want, can be found at this place. Want to tune your Mini or your RS6 or even your Ford Kuga, you can find all the details regarding all those at this place. This is a one stop shop for all your daily tuning news.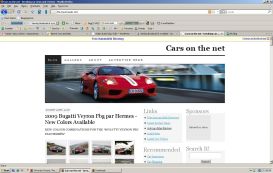 This site is run by industry editors working for a popular magazine. In their free time they write at AutoReader.net - Cars on the Net. This site mostly contains news about Supercars and sports cars and about exotic brands.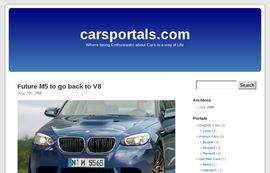 This Californian based blog is one of the world's leading provider of car news. Hourly updated with the hottest automobile news, automotive trends, spy shots and the inside line on the latest automotive and auto show news - the moment it happens. Their teams of reporters are located around the world to make sense of the latest car news.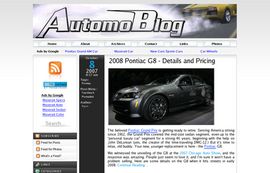 Automoblog.net was started in May 2006 as a way for the editor to talk about his love for fast cars. Since then, they have grown to be known as one of the best resources for unbiased information, news, pictures, videos, and opinions on performance cars, new and old. They personally cover as many events as possible, and do their best to report them as they are. Whether you're into sports cars, exotic cars, supercars, modified cars, tuner cars, or muscle cars, Automoblog.net is your website.
http://www.automobilesreview.com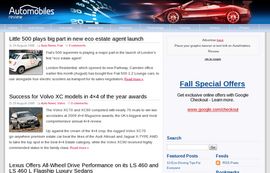 This is one of the leading blogs in this roll. The authors flood the blog with press releases and news day to day, and somehow every time I visit the blog, there is invariably something new, even if I'm going there for the second time on the same day. The menus are well set up and the presentation itself looks appealing and is very user friendly. We think this blog would become very successful, very soon.