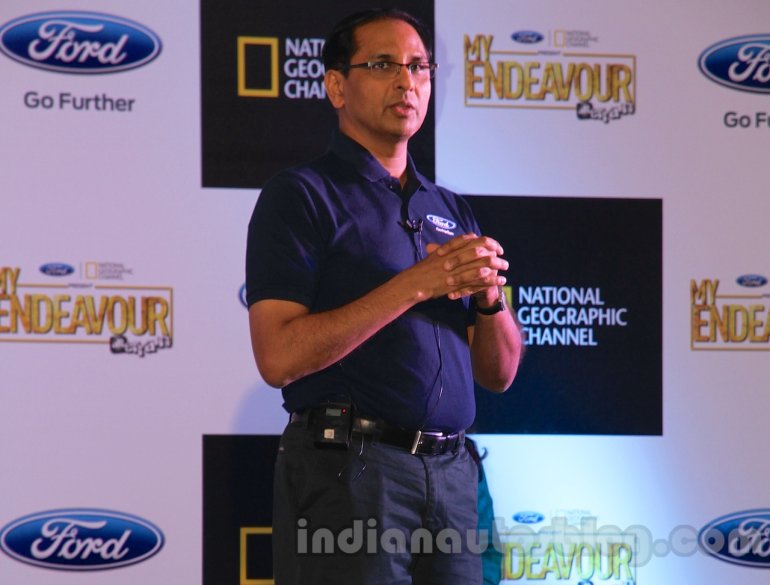 We caught up with Mr. Vinay Piparsania, executive director, Marketing Sales and Service, Ford India at the launch of the Endeavour AlTerrarin edition in Delhi this week. Here's Mr. Piparsania talking to IAB's Gaurav Malik.
National Geographic channel has been long associated with SUV's and getting the best out of them with shows like Flight of the Hawkz and Extreme Trail. This show brings a new concept with the Endeavour Alterrain. What are your views about it?
Today the association we have with National Geographic Channel, we are very excited about it because these are two very iconic brands that are getting together and well known for their real world and true blue experiences.
So with the new Alterrain Ford Endeavour edition we actually would like our customers to experience the kind of rough and tough conditions that you know and the adventurous spirit they would like to realize. It is anything that was common with the personalities that are a part of this journey.
It is the fact that they always had some unfinished business that all of them can relate to and being young professionals and being even people who want to escape our normal day-to-day work. I think that's truly what having a sports utility vehicle is all about. But if you want to go for a true adventure you need a true SUV and being able to take over all types of terrain which is what our Allterrain edition is all about. I think with National Geographic we are gonna get people to actually see the vehicle and personalities in action on as they realize that journey.
The Endeavour is getting long in the tooth. How long can you stretch it given that the competitors are not only growing, but becoming fresher as well? 
A Ford SUV has always been a classic true friend when you want to live a very adventurous or a very active lifestyle. I think that's what this brand has always stood for and I think over the years the Ford Endeavour has actually changed quite a bit in terms of its external and interiors as you know there's a number of smart features we have loaded on and at the end it doesn't disconnect from its true DNA of being a robust and a safe SUV.
So I think we have stayed true to what the Endeavour is about. Over the years there will be more changes as we come to understand more and more customer needs. But I think now it has its own following and it has its capable opinion for what it truly is which is tough, reliable and a true SUV.
There have been many speculations about the upcoming EcoSport. Can you clear them one by one?
1. The reason for the delay of the launch of the EcoSport is speculated that the company's aggressive with heavy localization in order to get the price as competitive as possible. How true is it?
All I would like to say at this time is that product development is always long term planning and a lot of execution. Our plans are on track at this moment and we look forward to announcing our EcoSport shortly.
Will you be bringing only the Ecoboost variant at first?

No we have already announced that we would have both petrol and diesel versions of the EcoSport.
Okay, the Ecoboost and the 1.5-liter diesel from the Fiesta?
We will have a diesel powertrain the specifications of which we will announce later.
Will it host an automatic transmission?
I will give you the specs at the right time but to the point that you are making an automatic is the preferred way. The Endeavor is also in automatic now and automatic is a trend trend that's now catching on. I think its something that we need to keep in mind as we launch more products in the future.
Arriving at the Ford Fiesta facelift, when is it coming to India?
The facelift, with the one Ford plan, most of our product follow a similar track so there will be a timing and plan for India which we will share with you at the right time.
What is the potential for a car smaller and cheaper than the Figo?
I think the small car continues to be a very strong segment in the country and I think that's something that definitely here to stay. I think there's a lot of room there for different types of product different types of segmentation whether it's about pricing whether its about features or whether its about the kind of utility that it offers.
So I think there's a room for everyone, we just have to make sure that customers see value, it is a very value conscious segment but at the same time it is a segment that's also preferring more smart features which looks for quality and which looks for cost of ownership. So all those factors need to come in, are already there in Figo and we will use the same experience in all our future products.
Will a new small car from Ford compete with the Datsun brand or would you like it to be more premium to that?
Very clearly, the small car market, which is almost 70% of the Indian market, is a very interesting one. Regardless of any competition, we will introduce a Ford brand into that segment so our approach is to create our own unique proposition that the Ford brand stands for. It will be placed in the small car segment and will compete with all the brands in that segment not just that (Datsun).
What are your plans to bolster your sales and service network?
We are at about 260 customer touch points right now and by the middle of the decade as further products will be introduced, we will be doubling that to 500. And we want to keep two service points per one sales point. So that's the kind of network that we have planned ahead so you can be assured that we are going to provide our owners with the best they can expect.
Your mid-decade plan includes launching 8 cars and once you are done with introducing  products in the hatchback/sedan/SUV segments, would you like to introduce something more premium in India, such as the Mustang?

All I would say at this time is that globally Ford is following "One Ford One World" plan. So I think any kind of product introduction is always keeping in mind the segmentation that we have in our country. So, at this moment I wont comment on that but I would say that in our One Ford portfolio we would try to make sure that we would check India a very significant part of any One Ford product.