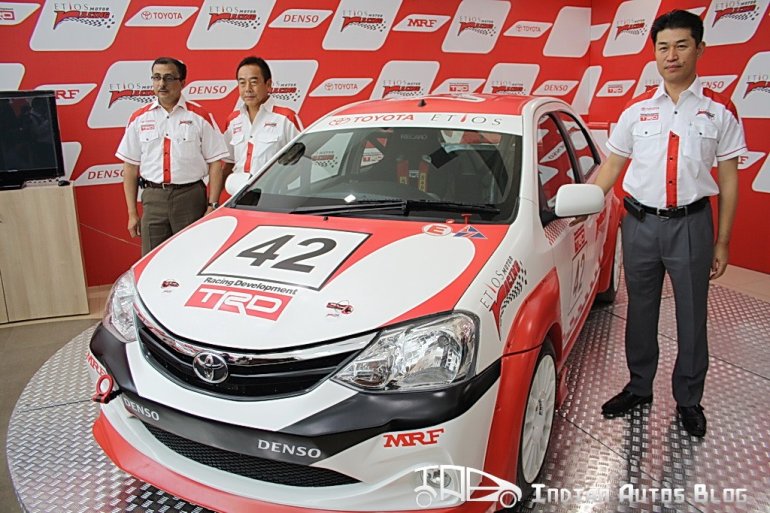 We brought you live updates from the Auto Expo where Toyota India launched the Etios Motor Racing to challenge the popularity of VW Polo Race Cup.
But now Toyota plans to start promoting Etios Motor Racing in India. What better way to do it than to do it at grassroots levels with the help of their dealers!
Toyota India showcased their Etios Racing cars at Lakozy and Shinrai Toyota dealerships in Mumbai last Saturday. We attended the launch in Mumbai and here are the updates for the events:
Why are they doing this?
After successfully conducting the first ever F1 race, Toyota believes that motorsport will become more mainstream in India.
Toyota is associated with motorsports since 1954 but has not conducted any motorsport activities in India.
The company plans promote motorsports in India starting with the one make Etios Motor Racing series.
Knowing that the average age of the Indian car buyers has fallen from 39 years in 2000 to 33 in 2012, this racing series will help Toyota promote its brand to a younger audience.
How will they do this?
Toyota has roped in TRD (Toyota Racing Development) and Red Rooster Racing to bring in the technical know-how of racing.
MRF and Denso are brought in as financial sponsors.
The Japanese auto maker will  start 'dealer activation' in 14 cities and 24 dealerships across India.
Dealer activations means Toyota will conduct many activities starting from racing simulators, remote controlled racing cars, automotive education for kids, etc.
The company has already selected 25 drivers from across India for the racing series. The drivers are being honed in Chennai by racing professionals.
2 exhibition races will be held in India as a teaser for the main racing event. These races will be tentatively held on Aug 4th and Oct 6th of 2012.
When will the Toyota Etios Motor Racing start?
The racing series will start 2013.
There will be 6 races – 2 at the Buddh, 2 at Madras Speedway and 2 at the Kari Motorway.
25 race-prepped Etios sedan models will start the season.
Soon Toyota will also include Liva hatchback in the racing series.
Toyota Etios Motor Racing Mumbai launch
Can't see the slideshow? Head to our Flickr page