Yesterday morning Toyota launched the Etios Liva amidst a group of select media representatives in New Delhi. Like most launches in 2011, IAB was on row one bringing you the prices.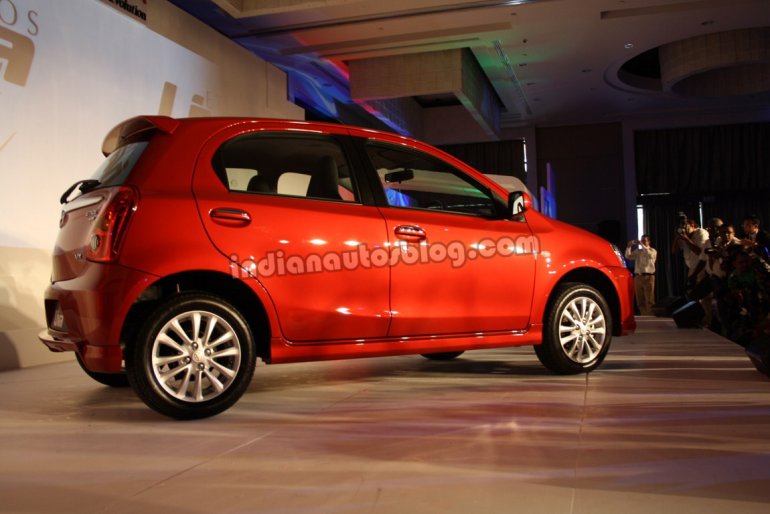 We discussed the variants and technical specifications last week and uploaded a few official images sent in by a reader yesterday, so there was nothing new from the launch except prices.
But how wrong we were!
At the launch Yoshinori Noritake saan, Chief Engineer of the Etios and Etios Liva presented a deep dive into the Liva giving us every insight into the building blocks. TKM's higher officials shared their view of the Liva's segmentation, features and target group which we'll discuss today on IAB.
Goes without saying, this is an IAB exclusive!
Notitake saan said Indians liked the Toyota but they felt the price was very high
They visited Indian homes for feedback. Indian have a good eye for vehicles.
So Toyota gave the Liva a temperature-moderated glovebox that could hold nine 500ml bottles, 7 one liter bottle holders, a rear console behind the hand brake that can hold 4 CDs (probably a 1,000 songs or more), 251 liters of luggage space with a low loading height and a rear bench with an almost flat floor to seat three abreast.
At the root of the word Liva is "Lively" and "Live your life".
The sedan is a hatch with a boot literally. The front-end stays the same while there is a small difference in wheelbase.
The design is so the driver's arm does not foul with the air flow to rear seat passengers.
The engine on the Liva is smaller than the sedan's but unlike some competitors has four cylinders.
The steering wheel has controls for audio. There's no bluetooth pairing even on the top-end model. The electronic power steering might not give the torque feedback, but it does not affect fuel economy like the hydraulic unit.
Passengers at the rear seat don't have to stretch or depend on the driver to switch sound tracks
Toyota says the centrally-mounted combination meter lessens eye/sight movement and classifies it under safety features.
The booking amount is 50,000 rupees.
Etios sedan's acceptance in India gives the Liva less things to worry about. AR Rahman power cannot be counted out.
Tech-savvy youngsters need features like Bluetooth connectivity, climate control and a good sound system.
Toyota is searching for youngsters with the Liva. The Corolla, Camry and other Toyota products are bought by people who are close to 40 years old.
Liva is offered in 7 colors, some bright, some not very bright.
Toyota has tested the Etios Liva for 100,000 km in all kinds of environments. Testing overseas has started as well.
Weight saving measures are everywhere. A car weighing less accelerates better, stops quicker and stretches the buck at the pump.