Tata Motors had showcased six construction vehicles from its 'ConsTruck' range at the EXCON 2013 which concluded this week in Bengaluru.
Among these six trucks, there were five tippers and one concrete mixer being shown for the first time.
The Tata Prima 3138.K, a heavy duty mining application truck designed for mining of iron ore and coal, the Tata LPK 3118 8X2 Haulage tipper developed for long-haul surface transport of earth work and coal supply with a sleeper cabin, and the Tata LPK 3723 10x4 – a 10 Cum RMC (Ready Mix Concrete) body were the first set of premieres.
In the Prima Tipper range, the variants that premiered were in the 25-31 tonne segment with 230-280 hp. These were the Tata Prima LX 2523.K designed for mining and construction application, the Tata Prima LX 3123.K designed  for construction application and surface transport, and the Tata Prima LX 2528.K designed for heavy duty mining and construction application.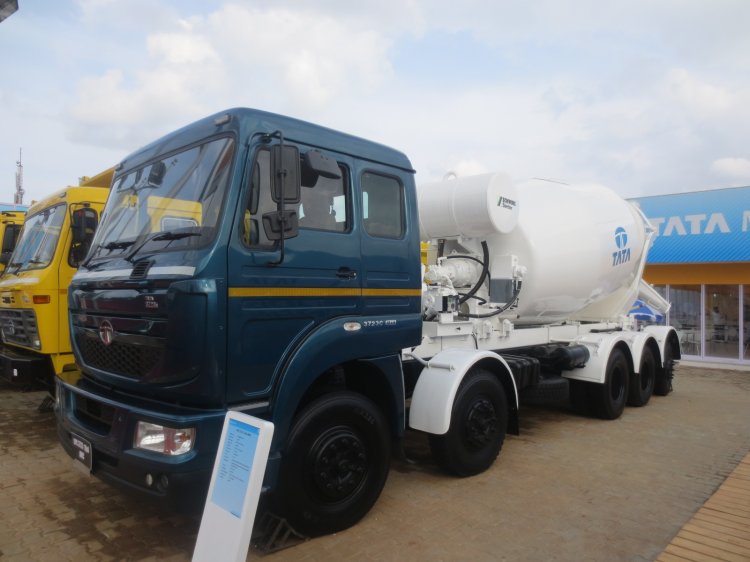 Tata Motors offers the new models with a 4 year/40 lakh kilometer/4,000 hour warranty. Furthermore, there are over 1,600 touchpoints across India (one every 50 km) which can attend to these vehicles.
Find technical specifications and features in the press release below.
Tata Motors trucks at EXCON 2013 - Image Gallery
Tata Motors trucks at EXCON 2013 - Specification charts
Tata Motors at EXCON 2013 - Press Release
[Can't see the press release above? Head over to Slideshare]