After the buyout by Mahindra, Ssangyong has been very bullish. Prior to the buyout, the company was in every imaginable problem because of which none of the funds were diverted to upgrading its models.
However, the Korean manufacturer has finally confirmed that it will replace the Rexton at the Busan Motor Show in South Korea on 24th of May. It has issued a couple of teasers shown above previewing the Ssangyong Rexton facelift.
The Rexton is a very old SUV based on the Mercedes Benz M Class platform that was released in 2001. Looking at the controversial design, you would be shocked to know that it was actually designed by the famous Giorgietto Giugiaro's Italdesign studio. The aging design will be given a sense of freshness with new front and rear fascias.
Ssangyong Rexton facelift - Noticeable changes
The completely new front fascia is highlighted by a bold grill that sports the new Ssangyong logo. The headlamps are in tune with the modern times sporting a strip of LED. An aggressive front bumper has new foglamp surrounds. Overall, the front fascia has a startling blend of the new Toyota Fortuner crossed with the Fluidic Santa Fe.
Ssangyong Rexton facelift - Under the hood
The new Rexton may draw power from the same Mercedes sourced 2.7-litre that develops 165 hp at peak. The 5 speed auto box also may also not leave the Rexton.Mahindra's mHawk engine sounds ideal for the Indian spec model but transplanting a new engine into an old platform is a tricky operation.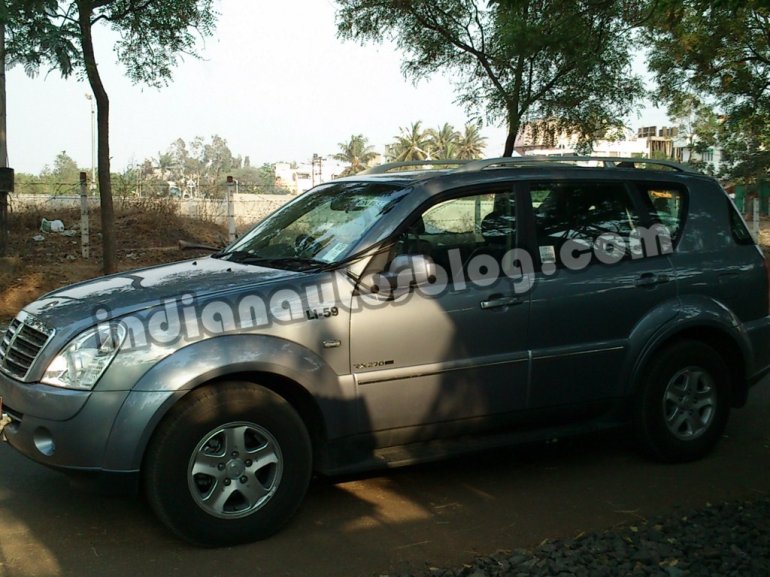 The Rexton which has been testing on the Indian streets is the older generation model. Mahindra has made it clear that it plans to bring the Rexton and Korando SUVs to India very soon. We would urge Mahindra to bring the latest generation model to India as it can then compete against the king of hill, the Toyota Fortuner, in a more apt way.
We heard many voices at the Auto Expo casting doubts over the Rexton's outdated looks. The facelifted model is surely one way of silencing the critics.
Mahindra does not have any products in the luxury SUV segment and the Indian SUV giant must be working out a good pricing strategy.
The Rexton is a perfect competitor for the Fortuner however the old one is not aspirational because of the way it looks. The refaced Rexton indeed looks promising to take up the challenge.
The spyshot attached to this article was sent in by IndianAutosBlog.com fan Sameer Bachhav.