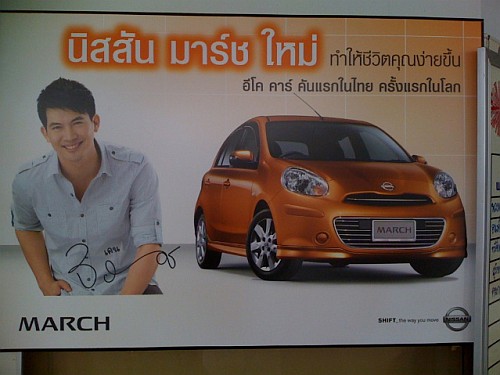 Nissan has begun going public about its upcoming March/Micra compact car
In Thailand, Nissan is gone up a gear for promoting the new Micra/March compact car. Ads featuring the car is becoming a regular sight in Thailand with the "Coming soon" text in the local language.
Seen here is a wall poster with what possibly could be car's brand ambassador. Would Nissan do a Hyundai by roping in someone from Bollywood to promote the car?
Nissan's all-new Micra will be manufactured at the company's Chennai facility. In the first phase, a 3-cylinder petrol engine displacing 1.2 liters is expected. It will be mated to a 5-speed manual transmission. Diesel variants are expected in the future.
Nissan has not revealed the dimensions of the Micra, but we expect it to be in the size range of the Hyundai i10. Production will start in May and the car will be in Indian dealer showrooms by the end of July.
Source - Autoincar