Daimler AG has displayed the smart vision EQ fortwo at the 2017 Frankfurt Motor Show. Here are the autonomous concept car's images from the show. The smart vision EQ fortwo is a two-seater which is 2,699 mm long, 1,720 mm wide and 1,535 mm high. The vehicle communicates using a black panel grille and LED displays, which replace headlamps and tail lamps. The side windows are covered with a special film onto which information can be projected from the inside. The pronounced wheel arches and short front and rear overhangs give this vehicle a typical smart car look.
Also Read: Mercedes GLC Celebration Edition – In 7 Live Images
Being autonomous, the concept car does away with the conventional steering and pedals, thus maximising interior space. The dashboard is replaced by a 24-inch screen which is surrounded by a rose gold-coloured frame. The outer edges feature two smaller four-inch displays, which can be used by the car, for example, to say "Welcome". The bench seat gets storage space underneath as well. To save space, the two doors pivot wing-like over the rear axle, making access easier and also reduces the danger of collision with cyclists and pedestrians.
The concept vehicle comes with an electric powertrain. It features a rechargeable lithium-ion battery with a capacity of 30 kWh. When not in use, the car makes its way independently to a charging station to charge up. Alternatively, the cars can dock with the power grid inductively, feed in electricity and act as a "swarm battery", taking pressure off the grid.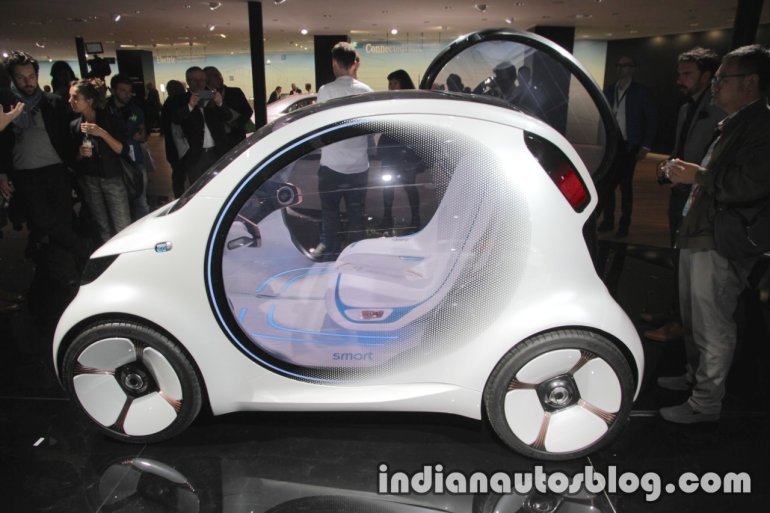 Also Read: IAB reader spots the next-gen 2018 Mercedes A Class in Dubai
The concept vehicle can be summoned using a mobile device. Thanks to swarm intelligence and autonomous driving, users do not have to look for the next available car – it will find them and collect the passengers directly from their chosen location. It also features a 1+1 sharing function in which possible passengers are suggested on the basis of their saved profiles and current travel plans, and can be accepted or rejected. When two passengers are on board, the large display in the interior shows shared interests such as music, sports, etc. which can be used to interact with fellow passengers.