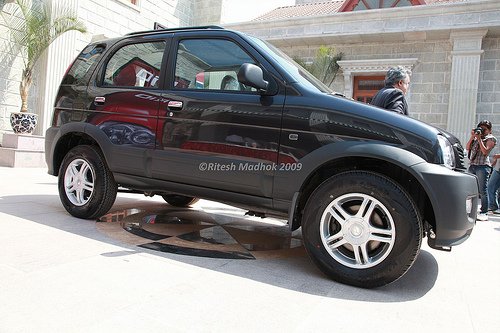 Premier's mini SUV Rio has garnered a good response from Indian buyers
Launched back in October last year, the Premier Rio's desirable looks has worked as the company claims it has received 2,000 bookings from its 34 dealers.
Premier's senior official -
We will begin the vehicle's delivery shortly. We are starting dealers in Andhra Pradesh, Gujarat, Maharashtra, Kerela, Tamil Nadu, Karnataka and Goa in a month's time. We are now also looking at cities in North India as we have been getting very positive response from them through this Auto expo, and Delhi would be the first city to get one.
The Premier Rio is a rebadged Daihatsu Terios from the 90's and is manufactured by Zoyte in China. It is brought into India as CKD and at the Pune plant, Premier fits it with a diesel engine sourced from Peugeot.
The top-end Premier Rio comes with Airbags, ABS and alloy wheels.  Premier offers a three year warranty on the Rio which comes in 5 colors.
On inspection during the launch last year, we found the interiors very boring. The legroom at the rear bench was not exceptional. The external appearance and the price tag makes up for the above shortfalls.
In the future, the Rio could come with the revolutionary Fiat Multi-jet engine which promises to sweeten the package.
Premier Rio Interior and Exterior Image Slideshow
If you're not able to view the slideshow above, visit the Premier Rio Interior and Exterior Image Gallery directly