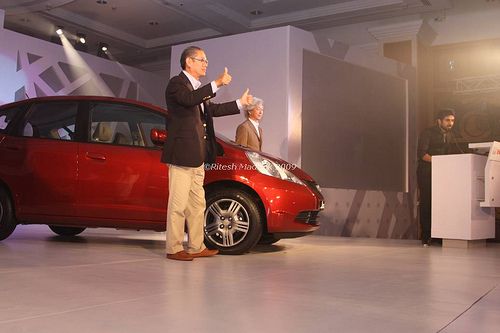 Study - Thumbs down for the overpriced, underpowered Jazz
Yes, that is right. After all the drama and countless inquiries, sales of the Honda Jazz resembles the opening of a pepsi cola bottle. Experts believe that despite its costly platform, roomy interiors and Honda badge slapped inside and out, it is unable to give competition to other cheaper alternatives, ie- can't hold a candle to Hyundai, Maruti, Tata etc.
According to officials, there were almost 50,000 inquiries for the Honda Jazz but only 4,000 of them were converted into sales. The Indian customer has intelligently moved to the City as it offers a boot, a more powerful engine and costs slightly more.
So was the Honda Jazz brought in to be a mere bait? If the ill-treated Jazz had feelings, it would cry.
The other important point to notice is the saloon vs the hatchback phenomena - people see more value in Honda City and don't mind shelling out a few extra bucks for it.
The actual figures are like in June above 2,000 units were sold, 1,037 in July,  1,029 in August and just 504 units in September.
So 100 in October?
According to a Honda dealer after the introduction of Jazz, his dealership witnessed a 30% hike in City sales.
Silver lining in the cloud - Customers are walking out of dealerships with the City, if not the Jazz.
According to some investigations, the car is not only overpriced but also underpowered with a 1.2-litre engine. If Honda brings in a 1.5-liter variant to tick that box, the Jazz will not qualify as a small car. It will not enjoy benefits, which will force Honda to price it higher.
The Jazz would then be directed towards a fate worse than death.
Honda Jazz Image Slideshow
can't see the slideshow above? Go directly to the Honda Jazz Image Gallery