Moto Guzzi is present at this year's EICMA with the 2014 Moto Guzzi V7. The 2014 model range gets a new lubrication system and a slightly modified cowl for the 90 ° V-twin engine.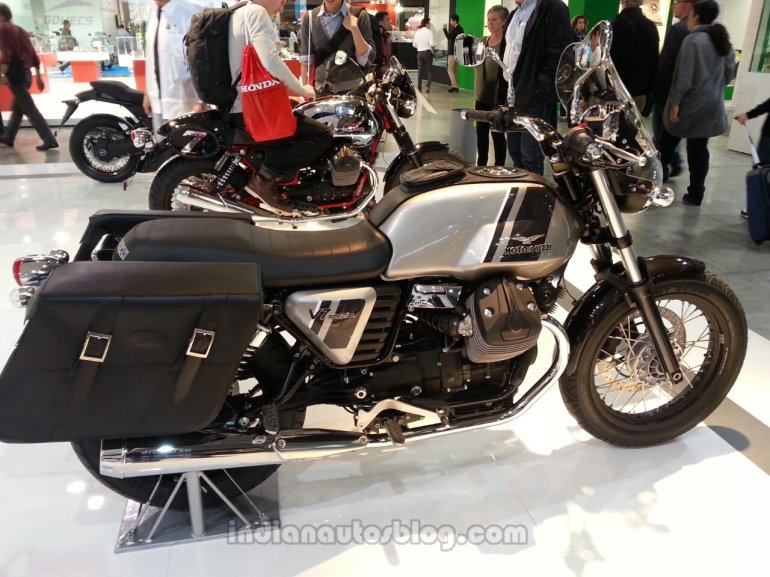 2014 Moto Guzzi V7 Stone
The 2014 Moto Guzzi Stone is embellished with a heavy dose of black paint, and chrome parts such as the exhaust and the stoplight enclosure. The dampers, mirrors, fenders, side panels and wheels are in black.
Customers can request Moto Guzzi to change the color to the tank and give it a sportier touch with red, green and black colors.
2014 Moto Guzzi V7 Special
The 2014 Moto Guzzi V7 Special comes in silver metallic body color with black stripes, or in black body color with orange bands. It has the word "Essetre" written on it, which appeared for the first time on the V750 in 1974.
2014 Moto Guzzi V7 Racer
The Moto Guzzi Racer is shown as a single seater, but a two-seater saddle is available on request. The saddle is upholstered in alcantara and leatherette. The side panels, mirrors, support bracket of the silencers and the rims are blackened.
The tail section of the bike has the number "7" to remember the 1952 250cc Motorcycle Grand Prix champion Enrico Lorenzetti. The frame and hubs are painted red, inspired by the first generation V7 Sport.
Moto Guzzi at EICMA 2013 - Press Release
[Can't see the press release here? Head to Slideshare]