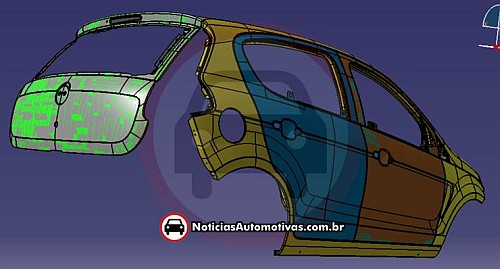 Here are the leaked official drawings of the upcoming Fiat Palio. The drawings of body-panels clearly show the shape of the next generation 2012 Palio. The new Palio would be launched in Brazil in May 2011 and Argentina in January 2012, according to Noticias Automotivas. Fiat India could bring the 2012 Fiat Palio to India in the first quarter of 2012, perhaps at the Auto Expo.
Indian Autos Blog has been continuously following the development of the 2012 Palio and we had numerous spy shots and renderings of the car. We can clearly see that the design of the new Palio is inspired by the Fiat Grande Punto. The shape of the headlamp, the vertical tail-lamps, the rear windscreen and the boot-lid are like the Punto's.
These are internal prints of Fiat and the design of the 2012 Palio looks very close to the rendering we showed a few weeks ago. This upcoming Palio, codenamed 'Project 326' is confirmed to be developed on the new Uno platform hence putting the current Palio's platform to rest.
Fiat India could launch the 2012 Fiat Palio with the advanced Multiair engine probably in its 1.0-liter guise. The new Palio could also be offered with small frugal engines. If priced properly, the 2012 Fiat Palio is the key to Fiat re-gaining its lost glory in India.
2012 Fiat Palio leaked drawing gallery
Source: Noticiasautomotivas