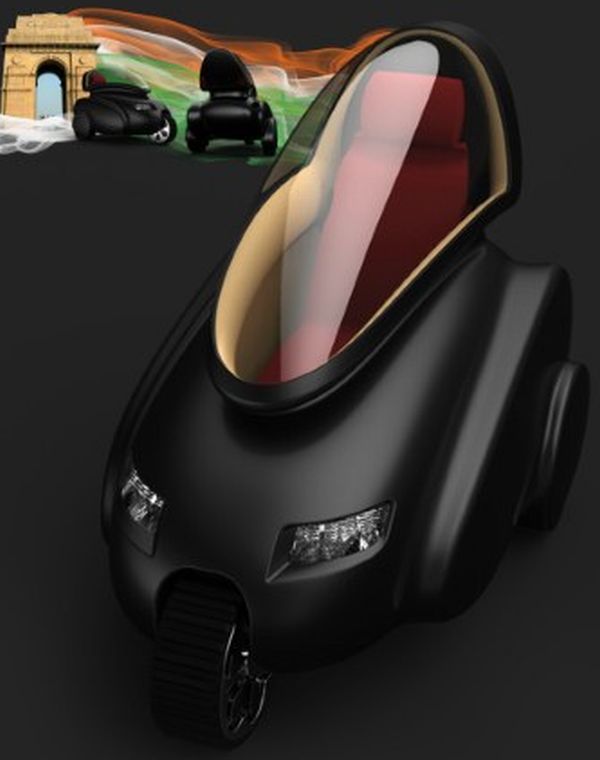 Talented Indian designer Harsha Kogod has put out a concept that promises to beat traffic, parking and fuel price woes. As thousands of new vehicles are added to the already congested roads every month and the second worry of urbanization set to take off in the next fifteen years, a uni-seat protective pod on wheels will be the easiest way to go to the beach for a jog, get to work in traffic and buy groceries for the single-car park household.
The In-Rapido (Indian-Rapid) mobility concept is a highly futuristic transportation relying on fuel cells to provide motive force, but a battery powered variant could make it more practical.
The concept has no doors. Ingress is like hopping on to a motorcycle. The absence of doors lowers vehicle parking space and adds to the style meter. Two electric motors are welded to the wheels providing variable drive.
The cockpit is adorned with cameras at the rear to assist the driver at tight parking spots, adaptive cruise control that improves user comfort, night vision for unlit Indian bylanes, collision warning system, countermeasures for rollover and pedestrian detection technologies.
The In-Rapido concept, similar in nature to the Renault Twizy, ticks all the boxes on paper but will auto manufacturers invest a billion dollars to produce one?