This image may fail to give readers a crystal clear idea of the 2013 Skoda Octavia (Laura if you are from India) that will be unveiled in the coming weeks, but what it unarguably does is provide a more complete picture of the new Octavia that many of us have imagined in our minds.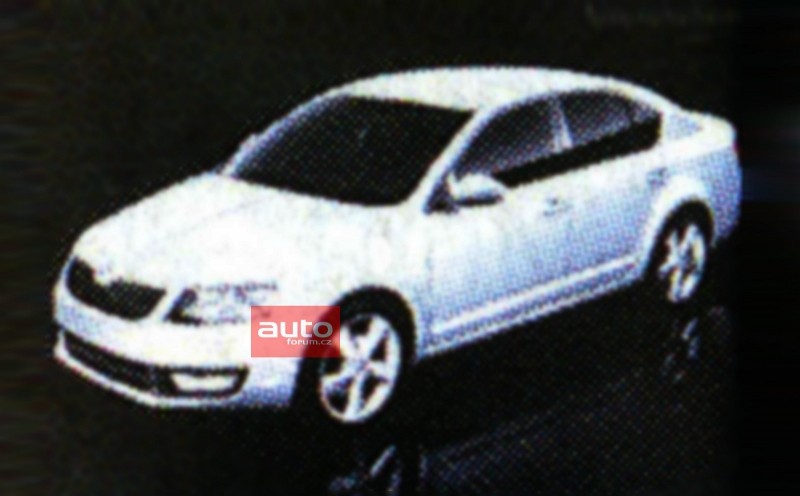 The proportions of the new Octavia is a size bigger than the Skoda Rapid, but the MQB Platform has helped Skoda offer a 590L boot and over 10cm of extra leg room at the rear, while improving fuel economy and performance. The design language followed by the Octavia was previewed by the MissionL and VisionD concepts shown last year, that's not new or different.
This image is captured from the dash-mounted LCD screen, revealing the front three-quarter view. This photograph only provokes a bit more excitement, like the other press shots from the Portugal media drive held a few weeks ago using camouflaged cars, where this one also comes from.
The third generation Octavia is 4,659 mm long, 1814 mm wide and its wheelbase measures 2,686 mm (corresponding to 4569 mm, 1769mm, 2,578mm of the current Octavia). A station wagon body style and a vRS variant are inclusions that may follow soon after the mainstay petrol and diesel variants launch.
Under the nose of the new Octavia, one can choose engines displacing 1.2-, 1.4- or 1.8 liters firing petrol or opt for the more fuel economical diesel motors in 1.6L and 2.0L avatars. Outputs range from 84hp to 177hp and these engines are paired to 5-speed manual, 6-speed manual or 6-speed AT gearboxes.
The new Octavia will hit the Czech market first in February 2013, followed by Europe and other parts of the world. Expect the new Octavia in India by Diwali 2013.
[Image from AutoForum.cz]