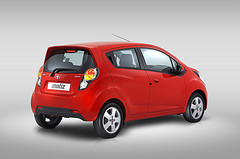 When we got in touch with Mr.P.Balendran, VP GM India, he conveyed the Cruze will be launched in October and the Mini car is scheduled for December.
Now, leading websites and blogs like Inside Line report the mini car will have its birth day during the Auto Expo 2010.
GM's mini car is expected to come with a 4-cylinder, 16-valve DOHC engine with a displacement of 1,000 cc that delivers 69 hp. A 3-cylinder diesel engine is also in the pipeline, set aside for the end of next year.
This vehicle has been rebadged as the Matiz Creative in Korea under the Daewoo banner and launched a few days ago.