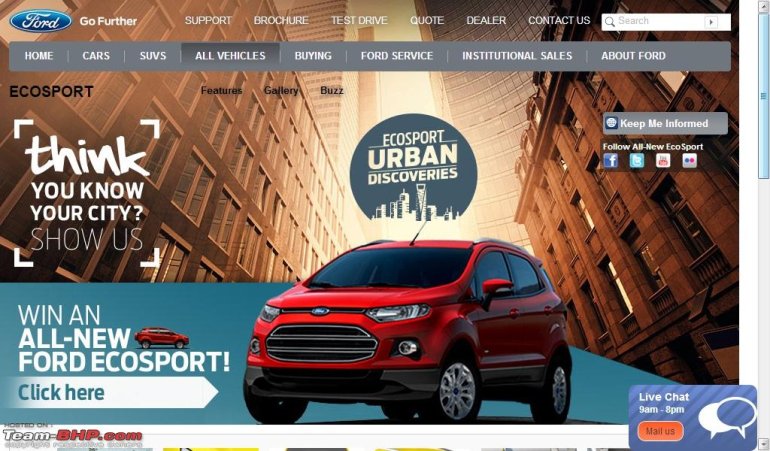 A couple of readers wrote in claiming that they could momentarily view new sub-sections and a different background image promoting a contest that comes with a grand prize of a new EcoSport on Ford India's website.
Ford had taken down the EcoSport section yesterday briefly, but had it back on, without changes, a few hours later.
Thanks to Team-BHP member Agam Bhandari, you can see what the refreshed website would look like. Similar to the Discover drive held to promote the Figo's launch, a campaign to promote the EcoSport as an urban runabout could well be on the cards, if these screenshots are studied.
The EcoSport is available in showrooms today, but you'll have to relocate to China or to Brazil to be able to own one.
Ford has not shared any dates, but road testing of the "Voice Of Customer Fleet" models continues in full vigor around South India at this time.
One can't read too much into a website update, as it may have no relation to the EcoSport's launch date, but these activities prove that preparations are on track for an imminent launch.
On the launch floor, Ford should announce three engine options (2 petrol, 1 diesel) and two transmission choices (5-speed MT, 6-speed AT). Ford is also packing plenty of technologies and features into the EcoSport, and if all variants, except the top-end, can be priced under 10 lakh rupees (ex-showroom), one can see the EcoSport being the company's next game changer.