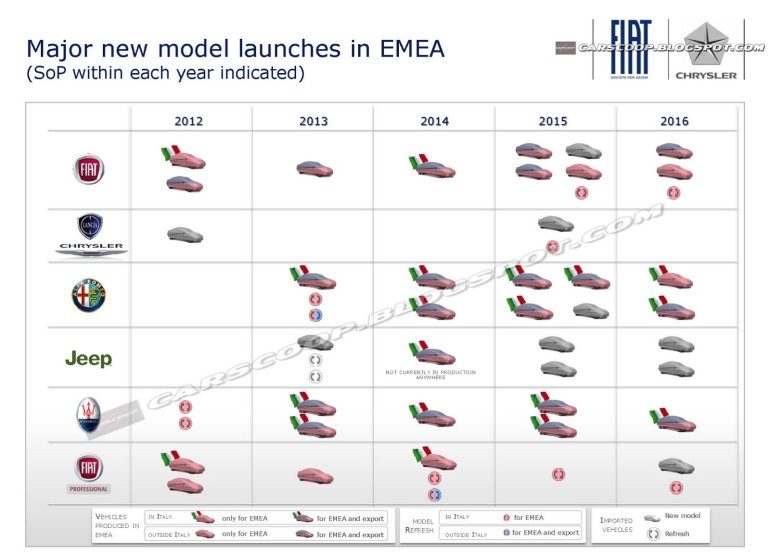 Fiat Group is arming themselves for an aggressive growth strategy in the coming years and that includes an onslaught of new products and product refreshes.
Carscoop.blogspot.com reveals the leaked latest public edition of Fiat's product sheet which shows the number of products planned till 2016 and their respective launch year along with the details of which region the product targets.
Although the product sheet fails to be descriptive about the body styles of the future cars, we now know that we are looking at cars like the Fiat 500X, next gen Punto and Linea. Apart from them, there could be more SUVs since Fiat Group's CEO Mr. Sergio Marchionne's future strategy is to concentrate on SUVs that could share platforms with fellow group brands like the Alfa Romeo, Maserati and Jeep.
According to the product sheet, Fiat will launch a new car in 2013 which will be targeting Europe, Middle East, Africa and other international markets including India. The next product will roll out in 2014 and we know that its the 500X crossover SUV which will be manufactured at Fiat's Melfi plant in Italy, and will reach India too.
The year 2015 sees four new products and a refresh out of which one will be an entirely new model. The last year of the strategy includes launching two vehicles and a refresh of an existing one.
Many of the models discussed in the product sheet will make it into India as announced by Fiat India at its recently conducted press conference. The car maker is now concentrating on the all important work of setting up independent dealerships across the country before the product attack begins.
[Source - CarScoop.Blogspot.com]