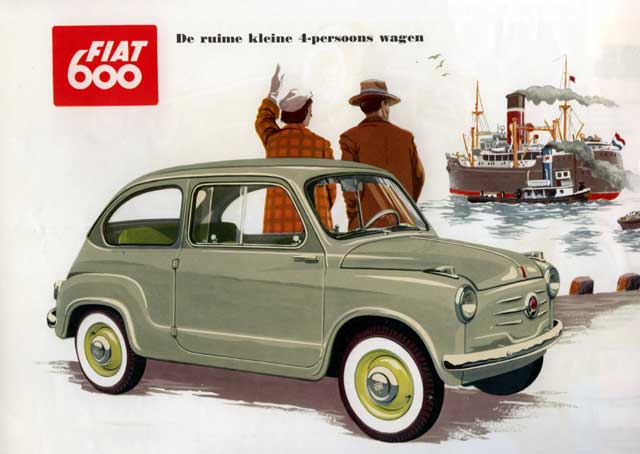 Fiat is cooking up a opponent for the Nano. I mean what's with all these car makers? Where were they all these years? When Tata initiated the 'world's cheapest automobile' idea, people looked at them with disgust. They spoke shit terribly about them and went to the degree of insulting them and conveying their intent that it was impracticable to manufacture something for $2,500.
But soon after the Tata Nano went live in New Delhi earlier this year, Ford, Hyundai, GM, Mitsubishi, Renault and a bundle of other electric car makers joined the bandwagon of the sub-$3,000 car. OK. It's thoroughly understandable if a market has changed drastically, and it demands a product carrying a low price tag, but it hasn't. Only raw material prices have elevated all these years, which Ratan Tata expressed at the Nano' launch.
What Tata has done is set the benchmark and proved to the world that by means of frugal engineering, it's really possible to manufacture a $2,500 car.
And now look whose the new applicant with such an intention- Fiat. By 2010, the Italian auto maker, claims that the world's cheapest car will wear its badge. And we know why the Ferrari-owner could have said so.
Interestingly, earlier this year, Tata frankly declared that it was ready for talks with Fiat for selling the Nano overseas with the Fiat badge. The talks have in all probability not worked and maybe the Italian manufacturer was frightened that its brand image and reputation would go for a toss if it sold such a product abroad. Smart !
So, how does one avoid such a deal smoothly? Easy- Make a competitor
No other details have emerged with regard to this car. It should in all possibility be a 4-seater with 4 doors. If Fiat's thinking of manufacturing a vehicle for the masses, and we all know that the company looks to adopt a different approach every time, we reckon they should take a look at the Carver- A 2 seater with 3 wheels and totally fun to drive. Perhaps a 4-seater should not be all that difficult to make.
The Nano, Hyundai or GM's $3,000 car and the rest may have loads of space, comfort, fuel-efficiency et cetera. However, we're not confident whether they will be fun to drive. All of us look forward to to having some amount of fun when driving, don't we? So why shouldn't less-fortunate people experience it too?
Fun- Precisely what someone is searching for when sitting behind the wheel, expect for if you are a truck driver or a bus driver where the situation is entirely different. We would unquestionablly find something like a 4-seater Carver more fun to drive in comparison to a Nano and after the methodology which Fiat adopted when making the 500, I'd say a tilting 3-wheeler is equally crazy, adorable and doable.C'mon Fiat. Here's your big chance.
Source- Hindustan Times