FCA has released the first official photos of the interior of the Fiat Cronos. The images were shared via their official Fiat Brazil Facebook page. Unveiled last month, the Fiat Argo-based sedan will go on sale in select South American markets in 2018. As anticipated, the dashboard layout is identical to the Argo hatchback. There are sublte differences in terms of the colour used for some of the trim pieces. The central inlay that houses the three circular AC vents appears to be finished in a darker shade. The Fiat Cronos also gets chrome internal door handles.
Visually, the sedan derivative of the Argo features a different grille with a single chrome louver and a finer mesh. The bumper is different too with wedge-shape fog lamp enclosures and chrome applique along the upper edge of the air intake. At the back, the tail lamp design and the LED graphics mimic that of the hatchback.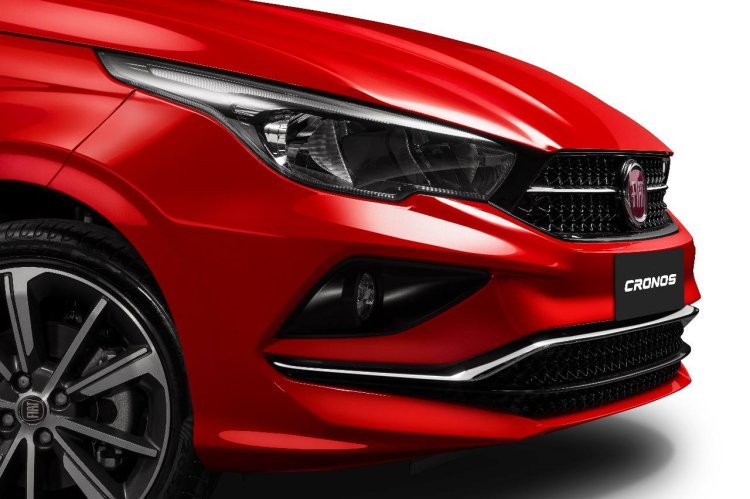 Also Read - Jeep Renegade facelift spotted
Fiat Cronos Drive variant will be equipped with a 1.3 L Firefly engine producing 101 hp at 6,000 rpm and 13.7 kg.m at 3,250 rpm running on gasoline. On ethanol, power output goes up to 109 hp at 6,250 rpm and torque to 14.2 kgfm at 3,500 rpm.  The Precision variant will be powered by an E.torQ 1.8 L petrol engine delivering 135 hp at 5,750 rpm and 18.8 kg.m at 3,750 rpm when driven by gasoline. Running on Ethanol ups power to 139 hp at 5,750 rpm and torque to 19.3 kg.m at 3,750 rpm. Both engines feature a 5-speed manual transmission while the 1.8 L engine is also available with a 6-speed automatic.