Back in July, Fiat India made a statement that they will be bringing a CBU to India by the year end. We asked Fiat India whether it would be the Freemont, a SUV based on the Dodge platform. Fiat's Mumbai representative responded that it will not be the Freemont because this mysterious new CBU will be 'a complete Fiat product'.
Sure, we made some predictions whether it will be the MPV Doblo or Qubo but no information has surfaced yet. Yesterday, while casually browsing through Fiat India's website, we stumbled upon a section which had loads of information on the Fiat Bravo.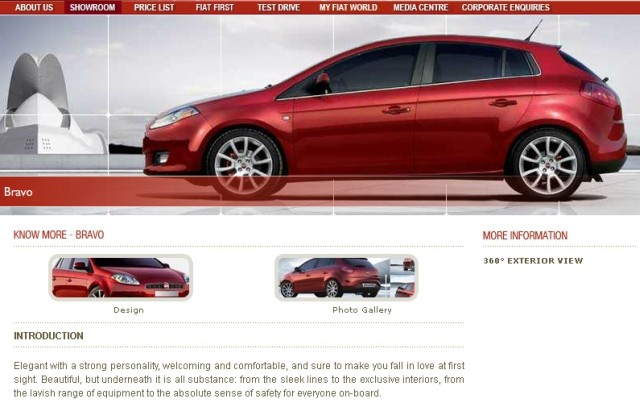 Is the Fiat Bravo the 'complete Fiat product' that Fiat India is contemplating on bringing to Indian shores?
Fiat Bravo is a supermini by Fiat which is much larger than the Grande Punto. It is more on the lines of the Chevy SRV that was launched by Chevrolet India which was also much larger than conventional hatchbacks. On the design front, the Fiat Bravo takes a lot of styling clues from the Punto.
The front fascia is slightly different from the Punto and rear is completely different. Internationally, the Fiat Bravo is available in petrol and diesel models with power ranging from 105 PS to 150 PS. So it certainly qualifies as a 'Hot Hatch'. The Bravo is also well equipped with advanced features such as 'Blue and Me' and 'Ecodrive'.
Considering it will come from the CBU route, we can't expect the Bravo to be a volume magnet. Fiat already sells a CBU in form of the 500 which manages to sell 1 unit every 3 months.
However, the Fiat Bravo can act as a brand builder for Fiat India as it plans to launch dedicated showrooms by next year. The Bravo is certainly a product that is niche and enjoys cult following internationally.
Considering Fiat India is struggling to sell their mainstream products such as Linea and Punto, bringing the Bravo as a CBU is the best option. It will get them eyeballs that they need to sell their existing lineup.
Also, if they manage to price it in the range of 9-10 lakhs, we are pretty sure Fiat India might find some customers looking to differentiate themselves from the crowd. Remember when Honda India launched the Jazz, it still managed to mop up 300+ units every month even when everyone was screaming on top of their lungs that it was overpriced.
There was a similar strategy adopted by VW when they introduced the Beetle in India alongside their existing line up of Polo and Vento. Massive advertising moolah was spent to make sure that the Beetle was the talk of the town. It featured in Bollywood movies, on the floors of shopping malls, even some celebrities bought them.
Inadvertently, the VW brand was highlighted in the communication thus making Indians curious about VW cars.
Fiat India could adopt a similar strategy by launching the Bravo in India. Do you think this will work?
[Source - Fiat-India.com]