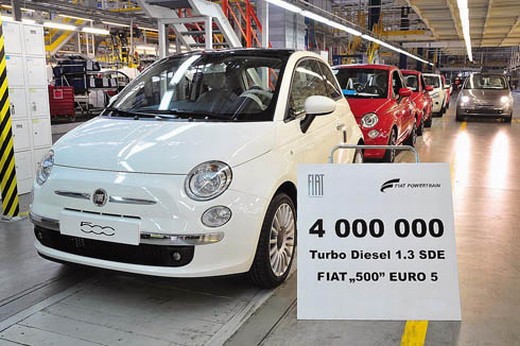 If there is one engine that Indian manufacturers just love to put in their cars in a no-questions-asked fashion, it has to be Fiat's Multijet engine.
The engine is so popular in India that Fiat has sold more Multijet engines in India than its cars. A major portion of Fiat's revenues in India comes from its engine business. In fact, Fiat also cashed in on the popularity of this engine with the 'Fiat Diesel Drives India' campaign.
Pick any diesel car in the Indian hatchback market and 95% of the time it will have a MultiJet. It has honorably served cars like Punto, Fiat 500, Linea, Palio, Ritz, Swift, Swift DZire, Vista, Manza, (soon to come) diesel SX4 and the list just goes on.
The Chevrolet Beat is expected with a 3-cylinder Multi-jet engine (chopped-block) later this year.
Now, this gem of an engine has clocked another milestone. Italian automaker Fiat announced the 4 millionth 1.3 16v MultiJet engine has left the plant in Bielsko Biala, Poland, on February 4, 2011. The 4 millionth unit was fitted in a Fiat 500 for a French customer.
This engine is available in a various capacities right from the 1.3L to the full blown 3.0L. It is also available in a turbocharged and a non turbocharged format. In 2005, the Multijet 75 PS version was even chosen as the International Engine of the Year.
Certainly, this is just the beginning of its achievement phase. There are so many new cars that will be launched in India this year. Who knows where this glorious engine will find a home in :)