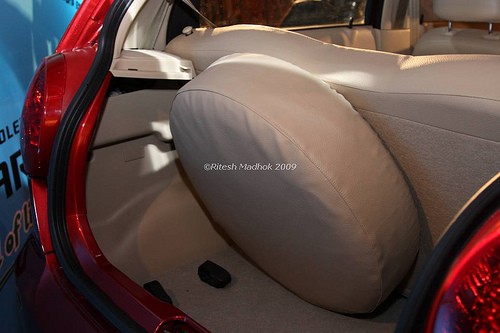 1) LPG powered vehicles are extremely economical for those who drive long distances.
2) If we keep the level of technology as the same, the emissions from a LPG engine are far less than what you'd get with a diesel or a petrol engine. This is because LPG mixes well with air which makes for good combustion characteristics.
3) Manufacturers have to ensure that special safety precautions are taken since LPG is stored in a pressurized state inside the vehicle, often in close proximity to the rear passengers.
4) Pressurized gas cylinders occupy a lot of space, as many a time, the capacity used up to store the gas is about 80 % the cylinder volume. The remaining area is where the gas expands. The cylinder takes up space and eats into crucial boot space.
picture - LPG tank in a Chevrolet Spark LPG