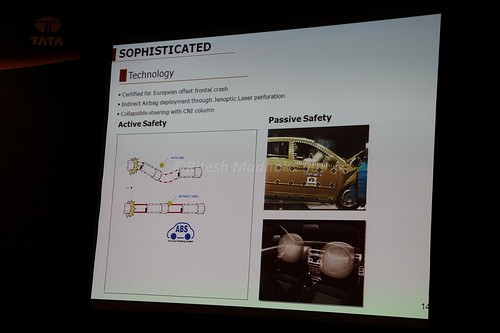 With safety and emission levels meeting international standards, the Manza will be sold overseas
Launched yesterday at the NCPA in Mumbai, the Tata Manza was showcased for the press, most of who had not seen the car in flesh before. The function was presided by Mr Rajeev Dubey, President - Passenger Cars, Tata Motors. Mr Dubey explained the details of the car and a Audio-Visual was shown which was followed by the Q&A session.
Available in 7 colors and 4 variants the Manza would be priced starting at 4.80 lakhs for the petrol and upto 6.75 for the fully loaded Aura+ that runs using the renowned Fiat Multijet Diesel engine.
2 years warranty/75000kms warranty would be standard, while the Indigo CS, XL and the Marina would continue to sell along with the Manza.
Later on an electric variant would also see daylight - this was disclosed by Mr Dubey himself.
Tata Manza would be produced at the Ranjangaon facility currently used for the manufacturing of the Fiat Linea and the Punto, so expect that quality to hike a few more meters.
The Manza was compared to the Honda City and the Mitsubishi Lancer in terms of dimensions and is said to be bigger than the two with more leg room, head room, shoulder room and trunk volume.
A new crossover would be launched in 2010 by Tata Motors, disclosed Mr Dubey.
Tata Indigo Manza Presentation Image Slideshow
If you cannot view the slideshow above, visit the Tata Indigo Manza presentation Image Gallery directly