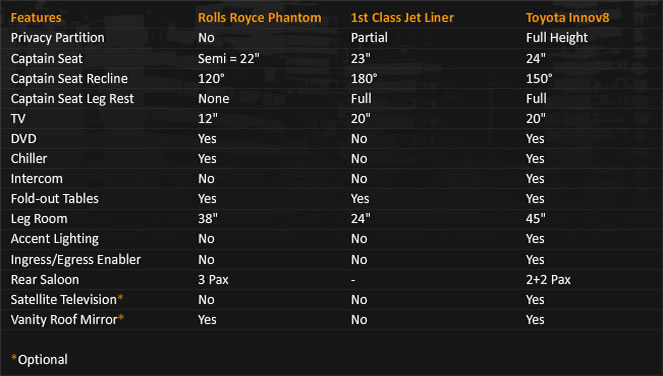 The Innov8 wins, credit to "Vanity Roof Mirror" and "Accent Lighting"
The terms Toyota Innova, Rolls Royce Phantom and 1st class jet liner can come together to form a sentence only if our local international designer DC wants them to.
DC's Toyota Innov8 using a Toyota Innova as donor car, has attracted wide interest thanks to much needed support and publicity from Khattar's Carnation Auto where it is sold. The pimped out version of the Innova serves you with a little more coziness than a Rolls Royce Phantom, a seat on the first class deck of an international airline combined together. You get to travel either to another country for business or the next street for a smoke (every time) in your uber-luxurious mobile for a one-time investment of about 8 lakh rupees (excluding donor car).
Hey they missed out the unbeatable "manual roll down window" feature from the list. Not fair.
The marketing strategy to push the custom Toyota Innov8 is indeed ridiculous and respiting.
Toyota Innov8