CEAT tyres have been making promotional videos, portraying the dangers that are usually sights on the Indian roads, in a witty and satirical fashion. Remember the "Mahapurush" ad? Its latest commercial revolves around one of the major reasons for accidents in the country, stray animals. However, to ensure that no animals were injured during the shoot, Future East Film scanned a real-life cow and created a 3D image of the animal using VFX for the promotional video.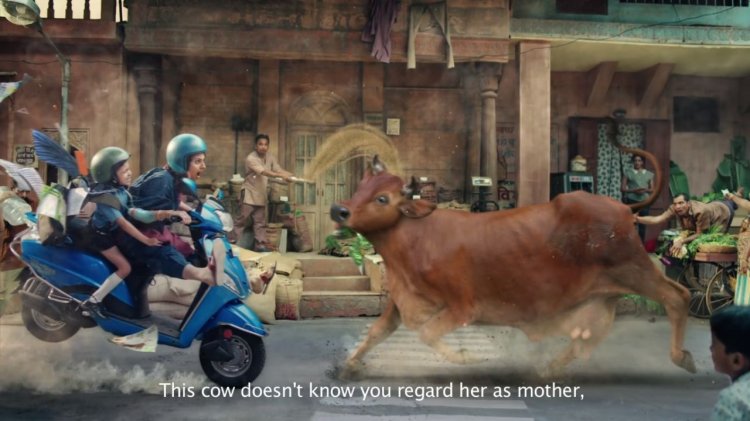 Also read: TVS Apache RR 310 customized with BMW HP4 Race livery [Video]
Stray animals, especially cattle, can result in serious crashes and CEAT tyres' new commercial by Future East Film captures the scenario without endangering the life of the real cow, Kamla.
A woman is riding her scooter in a crowded market with her kid, when suddenly, 'Kamla'– a rogue cow comes in her way. A freeze frame effect captures the expressions of the people and various other elements. The video ends with CEAT tyres saving the day with their grip on slippery surfaces. Creating the scenario in an actual marketplace would have been a difficult task and thus the video was shot in a studio.
Future East joined hands with Ogilvy to create the promotional video. Director Ashim Ahluwalia and FluiidMask, VFX Company worked together to pre-visualize the entire commercial. A combination of adapted rigs including motion-control allowed for the dynamic motion through the frozen scene. Post-production on the Kamla TVC was extensive, involving wire removal, and freezing and tracking expressions and fabric back into the scene. The VFX team added elements such as flying debris, smoke, frozen pigeons and flying paper.
Speaking about the advertisement, Ashim Ahluwalia, Director, said:
The CEAT Kamla TVC was a complex shoot with many rigs and wires, it couldn't have been shot in an actual bustling marketplace so we ended up re-creating it in a studio. The tiniest things can make the biggest difference. Whether it's details of how smoke freezes, light falls on objects, expressions, colour palettes or nuances in performance, I like to focus on the small details because that's often where the magic is.
Watch the CEAT Tyres Kamla advertisement below
The TVC will be another addition to ongoing campaigns of CEAT such as 'Mahapurush' and 'Idiot Safe'.