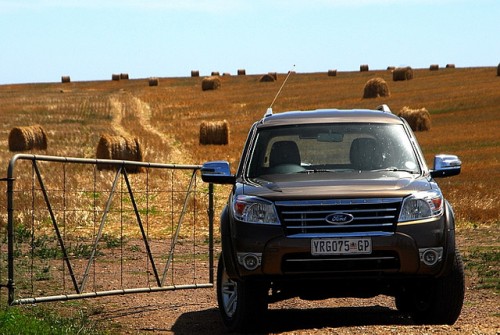 When we spotted an unusual Endeavour testing in Chennai city with "On Test" stickers last year, we knew Ford was up to something.
Ford today introduced a 5-speed automatic transmission on the 4x2 Ford Endeavour. The Endeavour is equipped with a 3.0-liter CRDI engine that pumps out 156PS of power and 380Nm torque. The Endeavour 4X2 AT is also fitted with ABS and (EBD) Electronic Brake force. Standard dual stage front driver and passenger air-bags combined with seat belt pre-tensioners and load limiters take care of you in the case of any mishaps.
Price - Rs. 17.89 lakh (ex-showroom, Bengaluru)
Press Release
FORD UNVEILS THE FORD ENDEAVOUR 4X2 AUTOMATIC -
THE LATEST ADDITION ADDS TO THE POPULAR ENDEAVOUR SUV RANGE
BENGALURU, India, September 14, 2010 - Ford India today unveiled the Ford Endeavour 3.0-litre 4x2 Automatic (AT) - the newest addition to its Endeavour premium Sports Utility Vehicle (SUV) range.
At the launch, Michael Boneham, president and managing director, Ford India, said, "We are excited and delighted to introduce our latest Endeavour variant to India. "Building on the strong Endeavour sales so far this year, and the overwhelming response to the
automatic transmission launched last year, we are confident that the Ford Endeavour 4x2 AT will be a popular and well received addition to our product line-up.''
Endeavour's rugged reputation enhanced by contemporary interior and exterior design elements
o The bold front end design is accentuated with new sleek and stylish side body cladding on the exterior
o Premium and classy appeal bolstered by new interior touches including titanium-finish instrument panel sports pedals and illuminated red scuff plates
o Spacious two tone interiors provide generous leg-room comfort across three rows of seating
New and impressive transmission and powertrain features :
o A 5-speed automatic transmission provides a great driving experience for urban and rural conditions
o The 3.0 L TDCi common-rail turbo-diesel engines with Variable Geometry Turbocharger (VGT) engine delivers maximum power of – 156 PS at 3200 rpm and class leading torque of 380 NM at 2500 rpm
Extra security peace of mind for Endeavour owners
o Superior breaking performance with ABS and (EBD) Electronic Brake force Distribution
o Equipped with dual stage front driver and passenger air-bags combined with seat belt pre-tensioners and load limiters.
Competitively priced at Rs. 17,88,760 (ex-showroom, Bengaluru) the Endeavour 4x2 AT is powered by a 3.0-litre, 156 PS DuraTorq TDCi (common-rail) powertrain with the Variable Geometry Turbocharger (VGT) and 5-speed automatic gearbox - with the overdrive switch on the shift lever – to deliver a highly responsive drive that complements its best-in-class torque performance at 380 NM at 2500 rpm.
Compared to other diesel automatic offerings in the 15-20 Lakh premium SUV segment, the DuraTorq engine of the new SUV delivers class-leading fuel efficiency of 10.7 kpl (ARAI). ''Like other variants in the portfolio, the 4X2 variant is robust, good looking, great to drive and versatile. We describe it as a 'smooth operator' SUV with the state-of-art 5-speed auto transmission technology that provides a superb and effortless driving experience whether negotiating congested city streets, cruising on the highway or exploring country hills and back roads, " said Boneham.
While rugged on the outside, the interior of the new Endeavour includes many creature comfort features. For example, the interior design sports a classy two tone finish complemented by a spacious passenger cabin. Inside, it also boasts ergonomically designed leather upholstered seats, a 6-CD changer music system and DVD player and an environmentally-friendly dual air conditioner with personalized air conditioning vents for the second and third rows. Other unique touches which enhance the 4x2 AT's aesthetic and driving appeal include illuminated scuff plates, a titanium-finished instrument panel, sports pedals and a stylish side body cladding.
The new variant also offers an array of active and passive safety features such as dual-stage front air bags for the driver and passenger. The air bags work in conjunction with three-point safety belts and pre-tensioners and load limiter features unique to Ford vehicles. In addition, the Anti-lock Braking system (ABS) coupled with Electronic Brake Force Distribution (EBD) provides extra security peace of mind for drivers.
The Ford Endeavour 3.0- litre 4x2 Automatic (AT) is available in five colour options - Diamond White, Moondust Silver, Sea Grey, Panther Black and Morello. Since it was launched in India in 2003, the Ford Endeavour has been a perennial favourite among Indian premium SUV buyers and is consistently ranked as the number one or two top-selling vehicle in the segment."
Boneham said demand for the Endeavour remains strong in India. "Our January to August 2010 Endeavour sales numbers are up 68 percent compared to January - August 2009. In addition, the market segment for SUVs priced between Rs. 15 - 20 lakh has nearly quadrupled, year-on-year, for the same period, and offers tremendous growth opportunities." Since 2007, Ford Endeavour has also topped the J.D. Power Dependability Survey three times in a row.
Image Source - Ford APA Flickr photostream