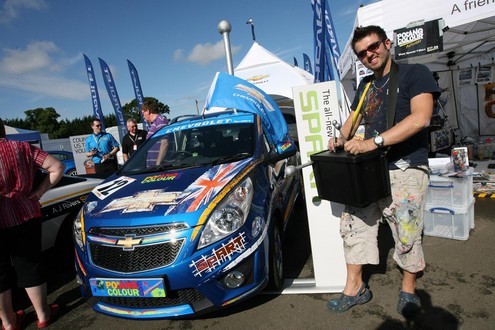 There is no denying the fact that the Chevrolet Beat (Spark internationally) is one good looking car. Even the company knows that they have created a product that looks like it belongs to the 22nd century!
Out here in India a key marketing strategy of the company has been to emphasize on the stylish looks of the car to lure customers into showrooms.
Globally too the Beat a.k.a Spark is being marketed as a highly stylish & aspirational vehicle. To further excite customers towards this trendy hatchback, Chevrolet UK has unveiled a special edition of the Spark called the Spark spART.
This Spark art car was introduced during Dunlop MSA British Touring Car Championship meeting at Silverstone. A rather striking looking avatar indeed! We wonder if GM will consider such variants for India? We really hope they do!
Press Release
The 27-year old, from Solihull, West Midlands, creates his images by driving remote control cars and rollingused car tyres through acrylic paint. But his latest toy, the Chevrolet SpART, takes that theme further.
The stand-out Spark – based on one of the key models in Chevrolet's market-leading 5-Year Promise aftercare package – draws influences from other historic art cars, as well as Chevrolet's global racing liveries.
With an extended aerial completing the tribute to the remote control car, Cook's latest artistic tool is the latest in a series of Art Sparks created by Chevrolet Europe in the past year. The first, a unique interpretation of the car by German fashion designer Smeilinener, made its debut at the final of the Young? Creative? Chevrolet Art Competition in Berlin last October.
Other Art Sparks include a one-off WTCC leading Car by Portuguese art student Jose Rocha, a YCC winner, a Spark DJ Car – the world's largest record turntable, created by Chevrolet UK in the spring, and a Spark Woody Wagon, seen running round the Silverstone Paddock on race day, which pays homage to the USA surf movement of the Fifties and Sixties.
Chevrolet's association with young artists continues – Cook was this year's Visual Arts UK judge for the pan-European Young? Creative? Chevrolet! competition, which brings together art students across Europe to compete in a series of disciplines, including photography, video, fashion and visual art.
Since creating his first Chevrolet – the Camaro Concept at the 2008 London Motor Show, Cook has created 12 artworks for Chevrolet and over 40 individual pieces using his car-inspired technique. At Silverstone his remote control art skills created an image of Stuart Scott's 1970 Chevrolet Camaro – a replica of the car last used by Chevrolet in British saloon car racing.
Source - Wheelosphere