Second generation Fortuner is due in India this year.
The continuous dominance of the Toyota Fortuner in the large SUV segment seems to have come to an end. The 2016 Ford Endeavour sold 560 units in April 2016 as compared to the 509 units of the Fortuner.
It is to be noted that sales of the Fortuner have slowed down considerably this year owing to the ban on large diesel engines in NCR. The NCR accounts for 15 percent of sales. Other products in this segment too have not done too well in sales: Chevrolet Trailblazer (13 units), Mitsubishi Pajero Sport (60 units), Hyundai Santa Fe (26 units), Ssangyong Rexton (1 unit).
The 2016 Ford Endeavour is available with 2.2-liter four-cylinder TDCi diesel engine and 3.2-liter five-cylinder TDCi diesel engine, the latter is offered exclusively with a 6-speed automatic transmission. The 2.2-liter diesel engine makes 160 PS at 3,200 rpm and 385 Nm of torque at 1,600-2,500 rpm and the more powerful 3.2-liter develops 200 PS at 3,000 rpm and 470 Nm of torque at 1,750-2,500 rpm.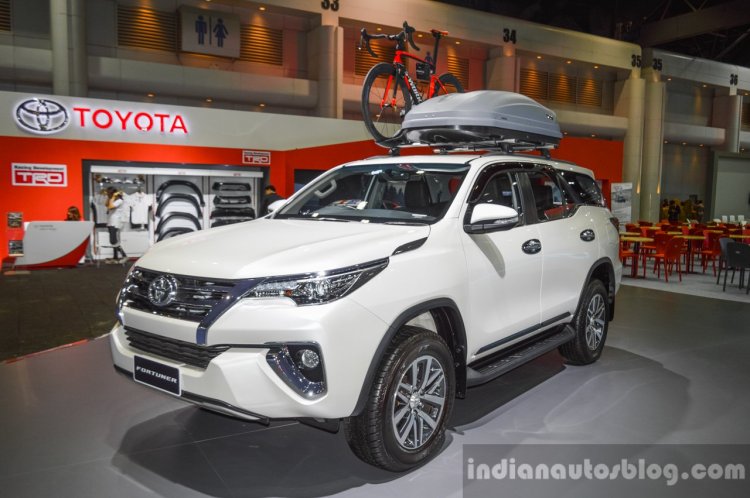 Also read: Ford EcoSport Black Edition launched
While the new Endeavour may have outsold the Fortuner by a small margin, it is to be noted that Toyota will launch a significantly updated second generation Fortuner in the Diwali period this year, reportedly. The 2016 Fortuner, apart from featuring massive exterior and interior upgrades, comes powered by the GD diesel engine family.