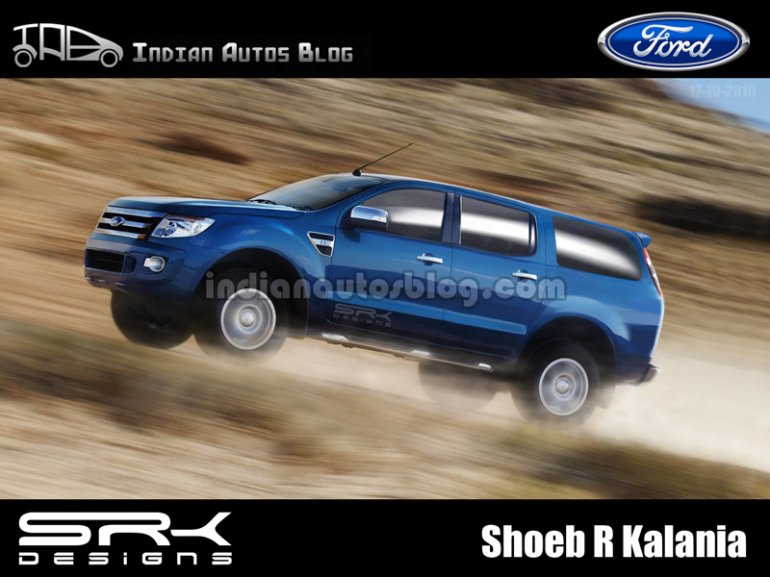 Ford's next generation Endeavour (rendered on the left), currently undergoing development in Australia's Broadmeadows design and engineering centre under the watchful eye of the high-ranked Ford SUV engineer Todd Hoevener, who was transferred from America to head up the project, could retain the 3.0 TDCI used in the current generation Endeavour.
A report published on GoAuto.com.au report claims that the all-diesel Endeavour range could be split up into LTD and XLT variants. The future Endeavour LTD variant is a 4x4 automatic while the XLT is a manual with 4x2 and 4x4 options according to the Go Auto report. The 3-liter engine is presumed to be the same motor used on the current generation model.
The new Endeavour is likely to be displayed at the Bangkok Motor Show this April and hit the Indian market sometime in 2013.
The successor is based on all new platform of the recently introduced Ford Ranger. Codenamed T6, the new Ranger pickup was unveiled back in October and is sold as either as a Ford or a Mazda (BT-50) in South East Asian markets.
The manufacturing location of the SUV is expected to remain in Thailand with kits imported to the Chennai plant for assembly. The model is likely to be available in a widespread manner as the Blue Oval's One Ford model policy is strictly against market-specific cars. The ladder-frame Endeavour is pitched against rugged SUVs like the Nissan Pathfinder, Toyota Fortuner and the Isuzu MU-7 in international markets.
There is no question of EcoBoost on the new Endeavour as petrol engines are not viewed as right companions to large utility vehicles.
[Source - GoAuto.com.au]