The Ssangyong Stavic a.k.a. Ssangyong Rodius a.k.a Ssangyong Korando Turismo is gearing up to hit the Russian market in October.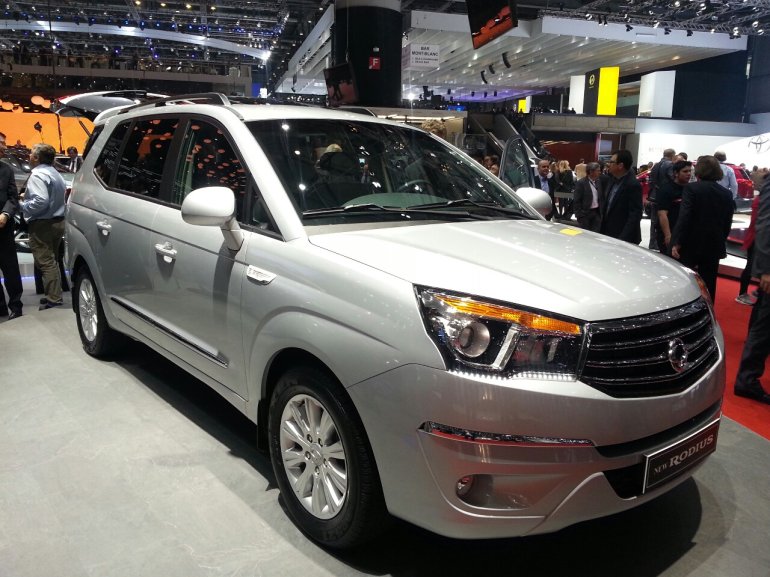 The full sized SUV recently went on sale in South Korea under the name Korando Turismo. The Ssangyong brand has a sizable presence in Russia and the Stavic will slot in as the flagship offering.
The gigantic Stavic can seat 7-11 passengers according to the configuration. The SUV has just entered its second generation and design wise, the car is light years ahead of its predecessor which was an eye sore.
The Russian spec model will be available with two engine options, one petrol and one diesel. The petrol motor is a 3.2 litre V6 unit which produces 220 bhp and is available only with a 5-speed automatic gearbox. The diesel power comes from a 2.0 litre engine which is good for 149 bhp. The engine is mated either to a 6-speed manual or a 5-speed automatic transmission.
The top end Elegance variant incorporates stability control, side airbags, multifunction steering wheel, climate control, heated seats, cruise control, rear parking assistant, rain sensing wipers and a 2DIN audio system. The 3.2L Elegance is priced at 1,239,000 Rubles (around Rs. 22.53 lakhs) for the two wheel drive variant and 1,379,000 Rubles (around Rs. 25.07 lakhs) for the four wheel drive variant.
The Ssangyong Rodius has been spotted in India hinting that the parent company, Mahindra could be studying the market for the SUV.
[Source: Carobka.ru]