This Rajdoot Deluxe 175 belongs to Bangalore based two-wheeler enthusiast and an avid collector, Vishal Agarwal. His massive collection includes the Royal Enfield Explorer, 1977 Bullet, BSA Bond 50, and Yamaha RD350 among others.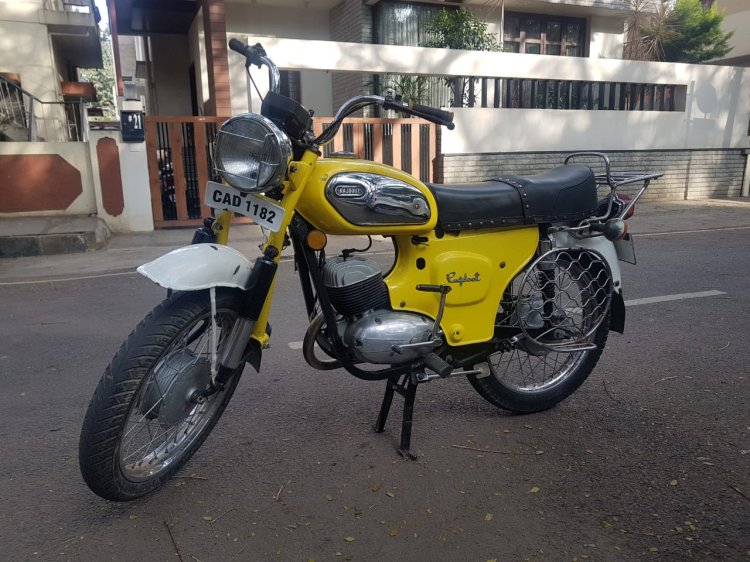 Also read: 'Reveller' by Eimor Customs is a fully transformed Royal Enfield Thunderbird
Vishal purchased the motorcycle from a seller on OLX for INR 25,000. The motorcycle is a Rajdoot Deluxe 175 which uses a stock 175 single-cylinder engine and body panels. The most standout feature of the motorcycle is the bright yellow paint that ensures that the Rajdoot Deluxe 175 is noticed everywhere it goes. The yellow paint occupies the front mounting panels, fuel tank and on the sides. The chrome finish to the fuel tank adds some contrast to the looks and avoids from making the motorcycle look monotonous. The chrome logo on the side panel looks neat and premium.
The white front and rear fenders gel well with the bright yellow paint. The fascia includes a round headlight with a grille to protect the glass. The tall set front fender hints that the motorcycle may have been used for occasional off-roading.
Stock body panels and saddle ensures that the Rajdoot looks retro. The stock suspension at the front further enhances its classic persona. The seat has a hump between the rider and pillion area with a belt that runs over the top. The rear features a rack to mount some luggage to the motorcycle.
The engine continues to run in factory tune and the 175cc, single-cylinder, 2-stroke engine paired to a three-speed gearbox. Braking department comprises drum units on both wheels.
Some chrome bits such as the rear blinker housing and the wheels need a bit of polish to bring them back to their original glory but Vishal's newly purchased Rajdoot is quite a stunner.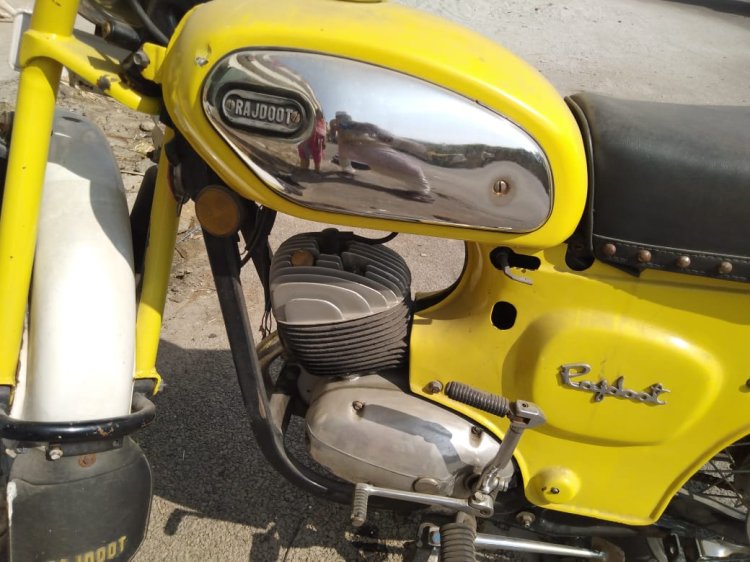 Also read: Dr Jeswant Thomas writes to IAB about his Rajdoot 175
Would you like to see your well-maintained retro motorcycle on one of the biggest motoring portals in the country? Send us an email at suvil@indianautosblog.com, and if it is appealing enough, we will feature it!